Pizza Poppers: The Copycat Pizza Bites You've Been Craving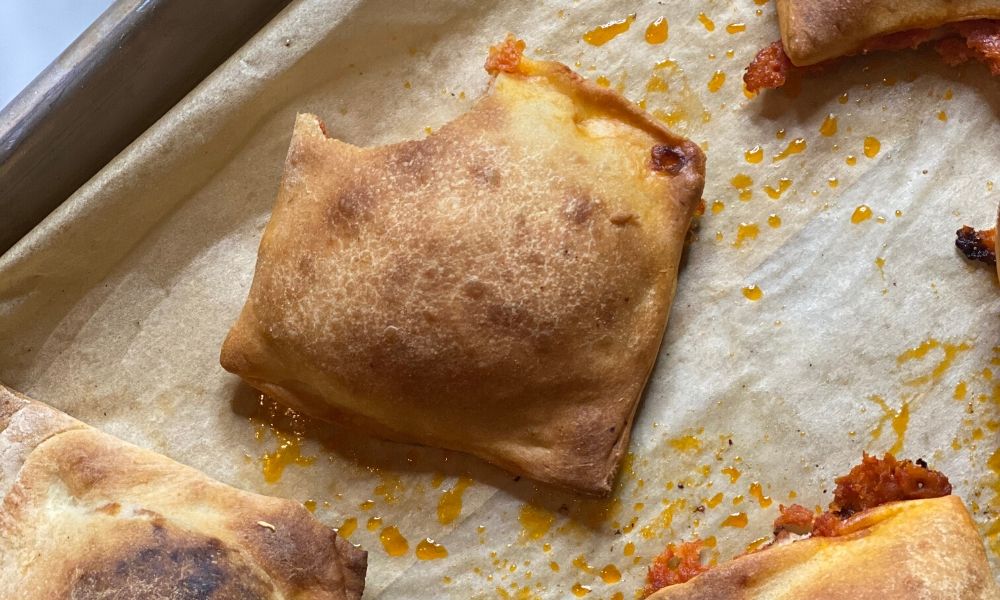 How do you feed a hungry tween pizza rolls without all the added junk? You make these Pizza Poppers. Or better yet, you have your tween make them himself.
Listen, I'm not against the pizza rolls you can pick up in the freezer aisle. At least, not because all of the additives. If anything, I'm against them because I'm a NYC pizza snob! But there's more to the story:
Given that my tween eats on his own much more than ever before, he's getting his fill of additives, salt, sugar, and other stuff that we try to enjoy in moderation. So whenever possible, I cook his favorite treats in order to manage what goes into his food. Cooking as much as I'm able is how I maintain a level of moderation that feels right for my family.
(I talk about this a lot in an episode of Didn't I Just  Feed You called Half the Sugar, All the Love — and Flavor with cookbook author Jennifer Tyler Lee.)
So homemade Pizza Poppers it is. And why not when they are so dead easy to make.
The key is to grab store-bought pizza dough from a pizzeria so that it's all-natural — and more delicious too — and to grab all-natural pizza sauce that doesn't contain tons of salt and sugar. I also use pre-shredded mozzarella. And with these shortcuts in hand, we're in business.
Check out my IGTV to watch me make these in real time, and grab the recipe below.
Pizza Poppers
Makes 8 to 10 4-inch poppers
Ingredients
1 cup shredded mozzarella
1/2 cup pizza sauce (store-bought or homemade)
3-5 tablespoons your favorite filling, chopped (e.g., pepperoni, veggies, grated Parmesan cheese, etc; optional)
1 round of pizza dough, enough for a 12″ pie
Olive oil, for brushing
1
Preheat oven to 475 degrees. In a small bowl, combine cheese, pizza sauce, and optional fillings; set aside.
2
On a lightly floured surface, roll the pizza dough into a large rectangle that's about 1/4″ thick (this does not have to be exact; watch video for more detail and a visual cue). Arrange the dough so that the short end of the rectangle is parallel to you and the long end perpendicular to you.
3
Using a sharp knife, cut the dough in half lengthwise (creating two skinnier rectangles of approximately equal size). Place 1 tablespoon of filling 1/2-inch from both the top and side edges of one of the rectangles of dough. Add another tablespoon of filling several inches down from that and so on; 4 tablespoons should fit down the length of the dough.
4
Fold the dough in half lengthwise, covering the filling (like ravioli!). Using a sharp knife, separate each Pizza Popper by cutting the dough in the space between each dollop of filling. Seal each Popper by pressing the dough around all three cut edges; the dough should be sticky enough to seal shut. Lightly brush the top of each Popper with olive oil. Repeat process with the other rectangle of dough.
5
Place Poppers on a parchment-lined baking sheet and bake until golden brown, 10 to 12 minutes. Allow to cool before serving.