Arroz con Pollo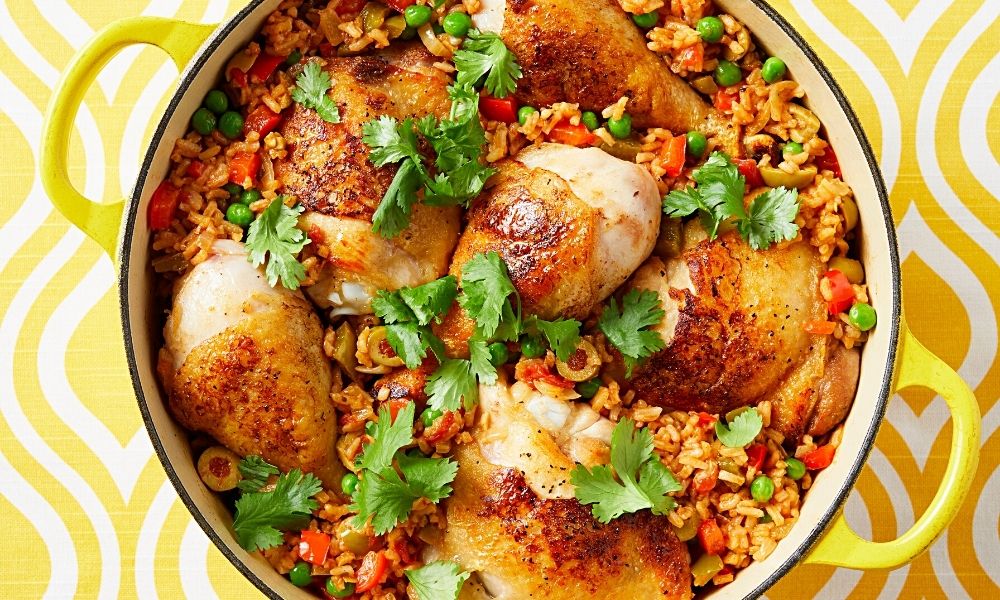 Arroz con Pollo is a dish with variations throughout the Caribbean, Latin American, and also Spain. This version is inspired by the Puerto Rican version popular in New York City.
The Puerto Rican version of arroz con pollo is often made with beer, which I use here, and annatto seed, which I left out because it can be hard to find in mainstream markets in the United States. If you spy it, though, grab some and look up how to make annatto oil, then use it in place of the olive oil here. It's worth it!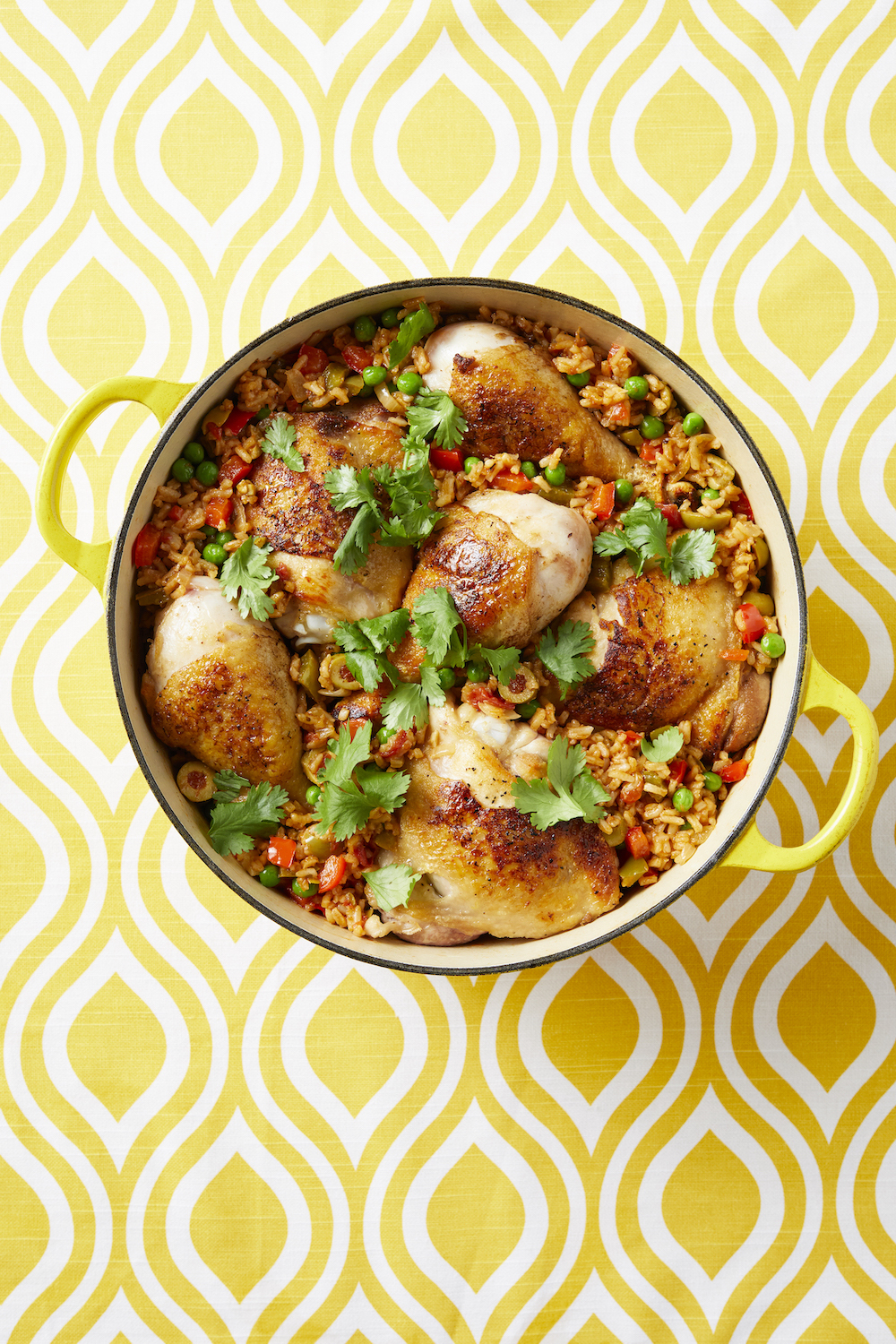 NOTE
Split leg quarters are usually sold at supermarkets in the United States are "chicken drumsticks and thighs," with one package containing two drumsticks and two thighs. Alternatively, you may have to buy the bone-in, skin-on drumsticks and thighs separately, or you can buy whole leg quarters (the drumsticks and thighs still connected) and split them in half yourself. You need four drumsticks and four thighs, total, for this recipe.
Ingredients
4 bone-in, skin-on chicken leg quarters, split
1 1/2 teaspoons salt
1 teaspoon freshly ground black pepper
2 tablespoons olive oil
6 large garlic cloves, finely minced or grated
1 red bell pepper, chopped
1 green bell pepper, chopped
1 onion, chopped
1 tablespoon dried oregano
1 tablespoon ground cumin
2 teaspoons garlic powder
1 1/2 teaspoons ground coriander
1 teaspoon smoked paprika
1 cup lager beer (you can substitute 1 cup chicken stock)
1 cup chicken stock
1 cup canned chopped tomatoes
1 cup long-grain white rice
1 cup frozen green peas
1 cup chopped green olive salad with pimentos (you can substitute chopped green olives)
3 tablespoons red wine vinegar
Fresh cilantro, for garnish (optional)
1
If you have time, remove the chicken from your refrigerator up to 1 hour before cooking. When ready to cook, pat the chicken dry with paper towels and season with 1 teaspoon of salt and black pepper, evenly dividing them among all the chicken pieces on both sides.
Heat the oil in a large saute pan set over medium-high heat. Add the chicken skin side down, making sure to press it as flat as possible onto the hot surface, and cook for 7 to 8 minutes. Flip and cook the other side for an additional 7 to 8 minutes. Transfer the chicken to a plate.
2
Lower the heat to medium-low and saute the garlic, red and green bell peppers, and onion until fragrant, about 3 minutes. Add the oregano, cumin, garlic powder, coriander, cumin, garlic powder, coriander, and paprika, and cook, stirring constantly to keep the spices from burning, another 2 minutes.
3
Add the beer and cook for 1 minute, using a wooden spoon or silicone spatula to scrape up the crispy bits. Add the stock and tomatoes. Raise the heat to medium and bring to just barely a simmer, about 1 1/2 minutes, then add the rice stirring to evenly distribute. Return the chicken to the pan skin side up in a single layer, along with any accumulated juices, return the heat to medium-low, cover, and very lightly simmer until the rice and chicken are cooked through, about 30 minutes.
Turn off the heat, uncover, and quickly add the remaining 1/2 teaspoon salt, the peas, and olives. Cover again and allow the pan to sit for another 5 minutes.
4
Uncover, drizzle with vinegar, and season to taste with more salt and black pepper as desired. Serve with cilantro over the top, if desired.