Sheet Pan Vegetarian Fajitas Everyone Will Love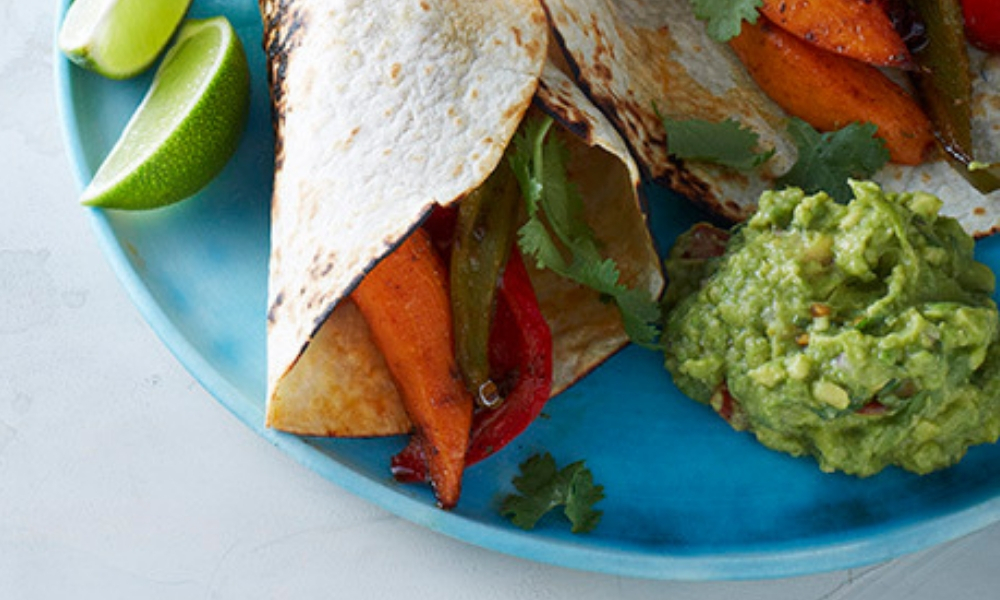 This sheet pan dinner — my easy vegetarian fajitas recipe — was a first share from my first cookbook, Make It Easy, and with good reason. Because, yes, your meat lovers will be into them too.
I waited a long time to write my first cookbook, Make It Easy. By the time I had my first opportunity, there were so many people in the family food space that I feared adding to a chorus of voices that, despite intentions, stressed parents out more than they helped. So I waited until I had an idea that would empower parents in the kitchen, not make them feel judged.
Enter Make It Easy: a book filled not just with easy family-friendly recipes, but also with a Supermarket Guide that helps you find the best brands and products that conventional supermarkets have to offer. A cheat sheet for kitchen shortcuts — and what I thought was missing from the conversation.
All sheet pan dinners are lifesavers, but it can be hard to find one that's vegetarian and still beloved by all, but this easy vegetarian fajita dinner fits the bill. It is proof that you can make quick, flavorful vegetarian recipes that are healthy and everyone will love — completely from scratch or semi-homemade.
Cook's Note:
Very thin pieces of onion will nearly disappear in the time that it takes to roast the other vegetables. Instead, to get wedges, trim the top of the onion and cut it in half through the root. Peel each half and place them on your cutting board, cut side down. Cut each in half again and then into 1" wedges, slicing through the root each time.
Sheet Pan Vegetarian Fajitas
Ingredients
1 teaspoon ground cumin
1 teaspoon dry oregano
¼ teaspoon ground chili powder
1/8 teaspoon salt, plus more to taste
2 large sweet potatoes, peeled, halved, and cut into 1"-thick wedges
1 red pepper, washed, seeded and cut into 1 1/2"-thick strips
1 green pepper, washed, seeded and cut into 1 1/2"-thick strips
1 red onion, peeled, trimmed and cut into 1"-thick wedges*
4 tablespoons neutral oil, such as grape-seed or canola
8 warmed flour tortillas, store-bought or homemade
Guacamole or avocado slices, for serving
Lime wedges, for serving
Sala, for serving (optional)
Chopped fresh cilantro, for serving (optional)
1
Preheat the oven to 425 degrees. In a small bowl, combine cumin, oregano, chili powder, and salt.
2
Add vegetables to a rimmed baking sheet, sprinkle with spice mixture, and drizzle with the oil. Toss to coat vegetables evenly and spread them in a single layer. Roast in preheated oven until the potatoes are tender throughout and the edges of some of the onion and pepper are charred, 25-30 minutes. Season with more salt to taste, if desired. Serve immediately tucked into flour tortillas, topped with guacamole or avocado, a sprinkle of lime juice, and salsa and/or cilantro, if using. Serve with more lime wedges on the side.