Roasted Squash With Ginger Shallot Browned Butter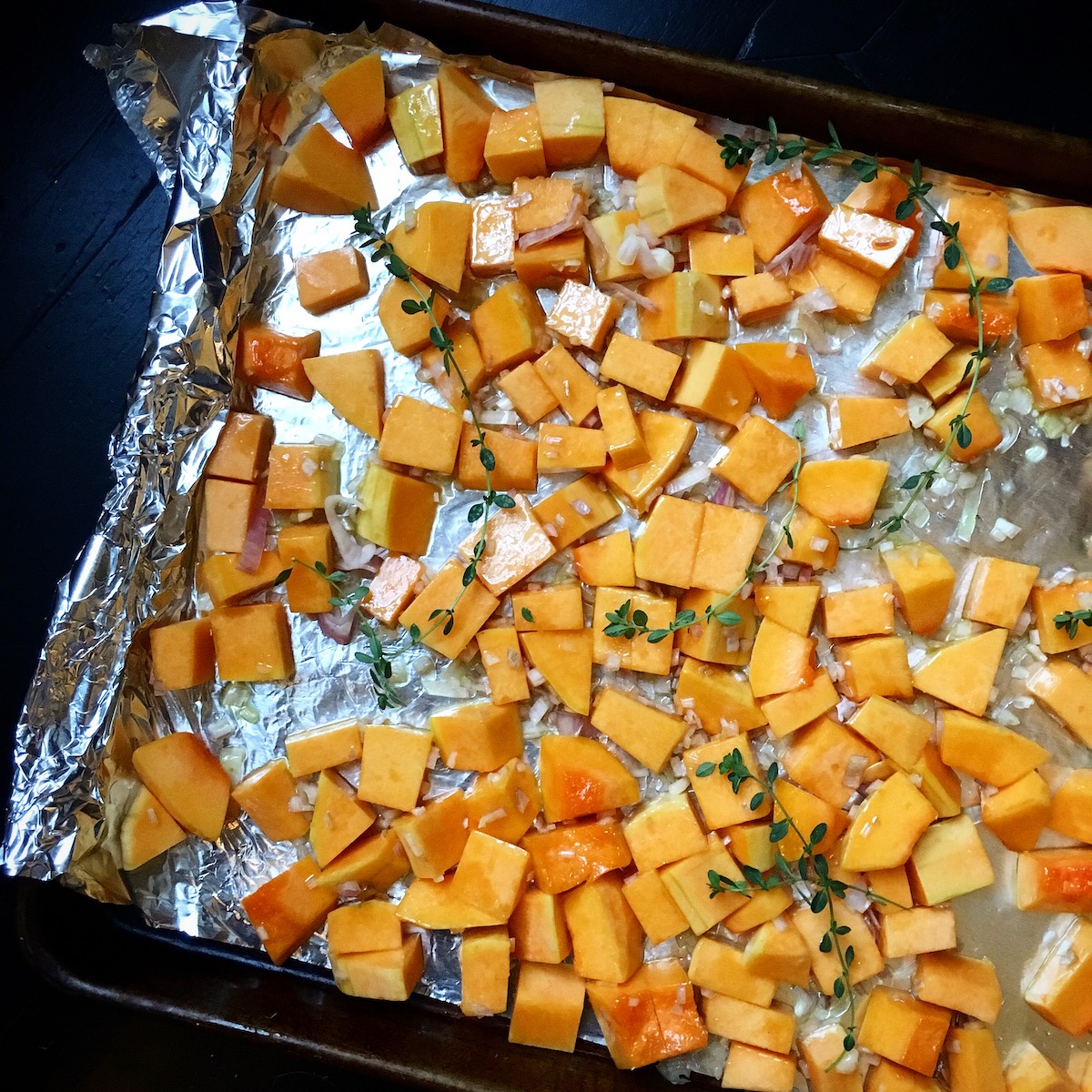 A cooking truth: browned butter is a magical elixir that turns ordinary food into spectacularly delicious food, and this Roasted Squash with Ginger Shallot Browned Butter is proof.
The act of browning butter gives it a surprising depth of flavor that makes both sweet and savory better. For savory dishes, add ginger and shallots as you brown the butter and you end up with the perfect golden drizzle for nearly anything from roasted chicken to veg.
For Thanksgiving, in particular, I love pouring this over simply roasted squash. This simple side dish manages to feel luxurious enough for your holiday table, but honestly, it comes together effortlessly enough that you can make it any night of the week.
Roasted Squash with Ginger Shallot Browned Butter
Ingredients
2.5 lbs (40 ounces) peeled butternut squash, cut into 1″ to 1.5″ cubes
Olive oil, for drizzling
Salt
Freshly ground black pepper
4 tablespoons unsalted butter
1/2 cup thinly sliced shallots
2 teaspoons grated fresh ginger
Fresh chives, chopped, for garnish (optional)
1
Preheat oven to 375 degrees. Lay squash in a single layer on a baking sheet and drizzle with olive oil, season with salt and pepper, and toss to coat squash well. Place in the oven and roast until firm, but tender all the way through and caramelized in spots. Make sure that the squash can hold its shape well enough to be handled without getting mushy.
2
In the meantime, in a small pan, melt the butter over medium heat. Once the butter has melted completely, it will begin to foam. Continuously swirl the pan as the butter cooks, carefully watching as it turns color. Once you see bits of butter turning chestnut brown, lift the pan off of the heat. Add shallots and ginger, swirl a couple more times and return to heat. Continue cooking, constantly stirring the shallots and ginger with a wooden spoon or silicone spatula, for about 3 minutes, until the mixture is fragrant and shallots are soft and caramelized in spots.
3
Remove the squash from oven and transfer to a serving bowl. Pour the ginger shallot browned butter over the squash and gently toss. Taste and season with salt and pepper. Toss one more time, top with chopped chives, and serve.