Greek Giouvetsi (Yiouvetsi): Beef Stew with Baked Orzo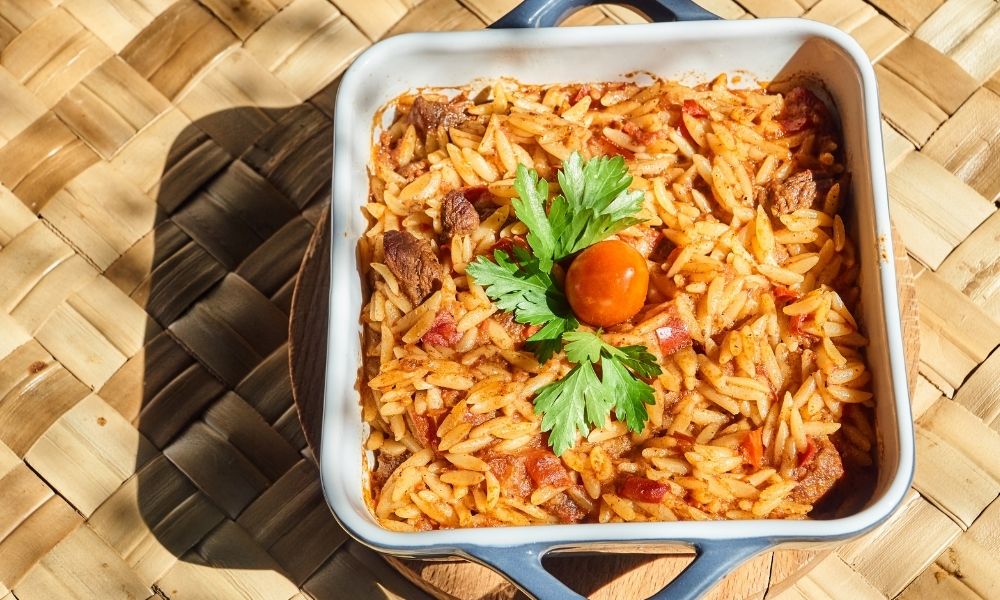 Move over pasta with meat sauce! This Greek-style beef stew with baked orzo is the ultimate pasta comfort food.
This traditional Greek recipe is one of my childhood favorites. I make it with beef, like my yiayia (grandma), but it can easily be made with lamb, chicken and veal, which is common in parts of Greece.
Step one is to cook the meat until it is falling off the bone tender, then you add toasted orzo and bake until the pasta is al dente and all of the liquid has cooked off. This two-part process gifts you the kind of tender beef you get from a luxurious, long cooked stew served up in creamy baked pasta dish. The best of two worlds.
This dish can be easily deconstructed to share with early eaters and picky ones too. Flavorful orzo for them, tender, easy to cut meat for anyone who likes beef, and the whole shebang with cheese on top for you!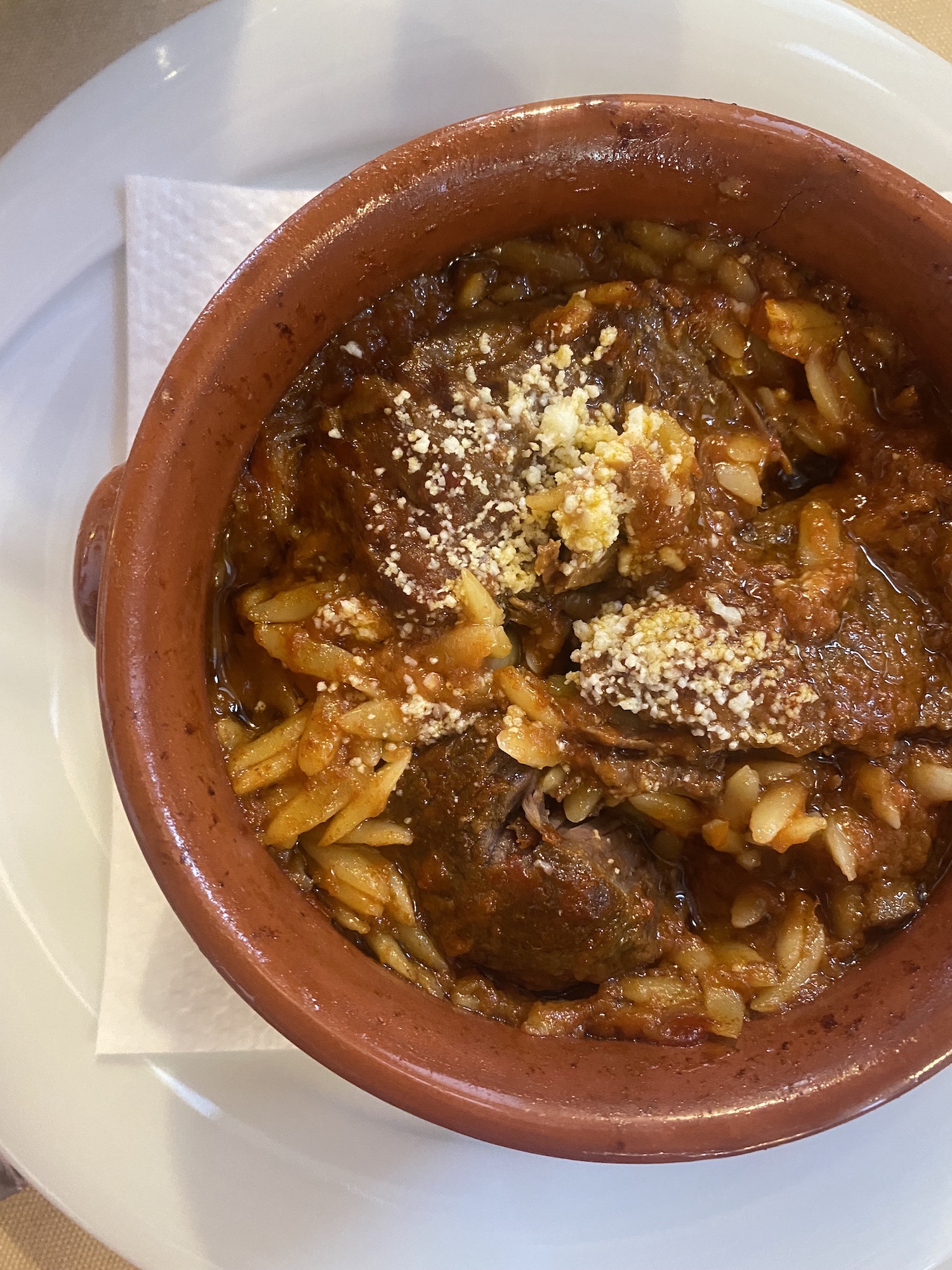 This dish is undeniably hearty, but not heavy like a brothy stew, which makes it a great dish all year around. It's cozy in cold and chilly weather, but I also love making a big dish of this on a rainy summer day to have on hand for one — or two — dinners. It's great at room temperature served alongside a crisp, refreshing chopped Greek salad. Plus, the recipe calls for fresh tomato pulp, which is best in summer when tomatoes are in season and full of flavor. In fact, if you make this in winter, you may consider using canned crushed tomatoes, which will lend much more flavor than watery out-of-season fresh tomatoes.
Notes:
This recipe calls for fresh tomato pulp when tomatoes are in season (when not in season, it's best to substitute canned crushed tomatoes). Simply cut a small piece of the bottom of the tomato (opposite the stem) to reveal the soft flesh. Grate the tomato on the large wholes of a box grater starting from the cut end. This will pulverize the flesh and leave you with the whole skin, which you can discard.
Traditionally, giouvetsi is topped with grated Kefalotyri, a Greek hard cheese. Pecorino or Romano are typical substitutes, but you can easily use Parmesan if you want something a little bit more mild.
Greek Giouvetsi (Yiouvetsi)
Ingredients
2 lbs boneless beef chuck (shoulder), cut into 1-inch cubes
1/2 cup olive oil, divided
1 large onion or 2 medium shallots
1 carrot, washed and trimmed
1 leek, white part only, washed and trimmed
2 cloves garlic
2 tablespoons tomato paste
1/2 cup dry white wine (you can use red in winter for a deeper, heartier flavor)
1 teaspoon sugar
1 1/2 to 2 cups fresh tomato pulp grated from 4 ripe tomatoes (see note above), you can substitute one 14.5 ounce can crushed tomatoes
4 all spice berries
1 cinnamon stick
1 bay leaf
Salt and pepper
2 3/4 cup orzo
1 sprig fresh thyme, optional
Grated Kafalotyri, Pecornio, Romano or Parmesan (see note above)
Zest of 1 small lemon, (for serving), optional
Chopped fresh parsley, (for serving), optional
1
Pat the beef all around and allow the pieces to lay on paper towels while you prep the vegetables. Heat 1/4 cup of olive oil over medium-high heat in an oven-proof braiser or large, wide high-sided pan. Once hot, add the onion or shallots, carrot, and leek whole. Cook for about 1 minute, then add the garlic cloves, also whole. Cook all the vegetables for another 2 minutes or so, turning them to gently brown all sides.
2
Add the beef and brown  on all sides, about 4 to 5 minutes. Reduce heat to medium and push meat and veggies to the side. Add the tomato paste to the center and cook for about a minute, stirring all the while. Next add the wine and sugar. Cook until most of the wine has evaporated.
3
Add the grated tomato, 4 cups of water, all spice berries, cinnamon stick, and bay leaf. Stir to bring all the ingredients together, season with salt and pepper, then lower the heat to low and very gently simmer until the meat is falling apart tender, 1 to 1 1/2 hours. You want the sauce to thicken in this time, but not too much; you want a rich, but fairly thin sauce that can be absorbed by the orzo. It should not be as thick as a pasta sauce that you'd use to toss with cooked pasta. If it begins to thicken too much at any point, add a little more water.
4
About 10 minutes before the meat is done cooking on the stovetop, preheat the oven to 350 degrees. In a medium skillet, heat the remaining 1/4 cup of olive oil over medium heat and, once hot, add the orzo. Toast the pasta, stirring all the while, until fragrant and some pieces begin to turn golden brown, 3 to 4 minutes; set aside.
5
Remove the beef from the stovetop and, as best you can, fish out the vegetables, all spice, cinnamon stick, and bay leaf. Taste the cooking liquid and season with more salt and pepper, if desired. Stir in the toasted orzo and any accumulated olive oil, making sure that the orzo is fully covered and also not sticking to the bottom. Top with thyme, if using. Cover with aluminum foil and bake until all of the liquid has absorbed and the orzo is al dente or just cooked beyond, about 3o to 35 minutes. Stir once during cooking time to ensure that the orzo isn't sticking to the bottom of your pan or baking dish and to generally check on how it's going: you want all of the liquid to absorb without the orzo getting mushy!
If after 30-35 minutes, the orzo is just right, your giouvetsi is ready to come out of the oven. If there's still quite a bit of broth, uncover the pan and return it to the oven for up to 15 minutes more.
6
When ready, remove the giouvetsi from the oven, remove the sprig of thyme, and taste to season with salt and pepper one last time, as desired. Top with grated cheese and serve! Or, if you're feeling fancy, you can stir in some lemon zest and top with both grated cheese and parsley.