My Favorite Roasted Cauliflower with Chickpeas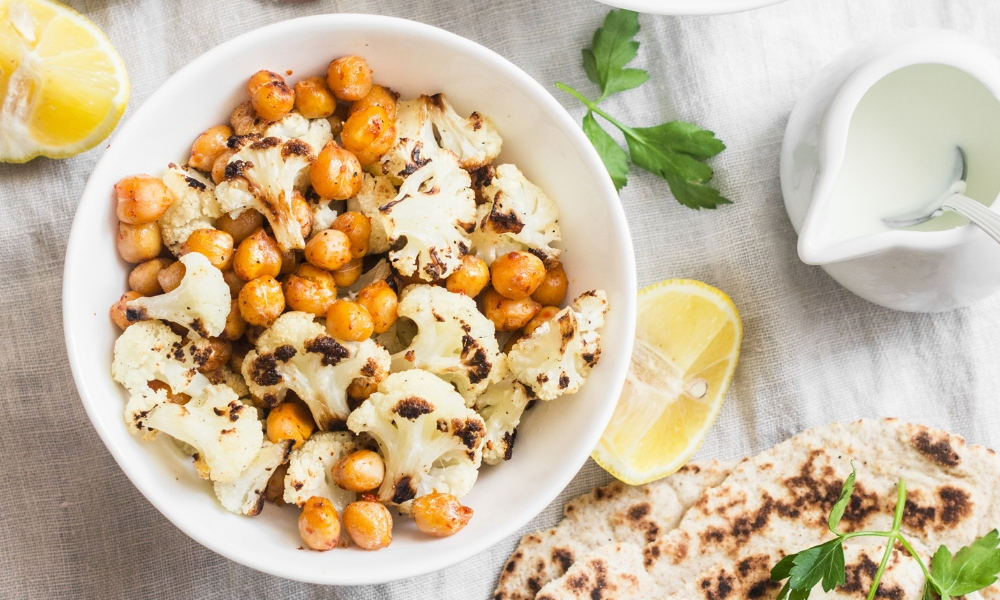 If you listen to my podcast, Didn't I Just Feed You, you may know that I have mixed feeling about Gwyneth Paltrow.
Well, not about her personally. I'm clear on those feelings (and will refrain from sharing them here). But as I mention in our episode GOOP and the Most Superb Love-Hate We've Ever Known, I am conflicted about her brand, including her "clean eating" cookbooks.
While I'm not a fan of the thinking behind It's All Good, the truth is that the recipes are good. Like, really good. And it's no surprise given that the book was co-written with the super talented (and current food world darling) Julia Turshen.
The book is — no surprise — chock full of absurd moments, as well as ridiculously expensive and hard-to-find ingredients. But there are also some beautifully simple recipes made with simple, fresh ingredients that can easily become a part of your weeknight repertoire the way they have mine. This is one of them.
Cook's Notes
While the veggies and chickpeas roast, whisk together the simple vinaigrette and chop parsley. Or skip the parsley. I often do since my kids don't love it and we don't use it for much else.
If you like this dressing the first time you make it, double it moving forward. Save the extra to use on salads and other roasted veggies that you make during the week. This "cook once, eat twice" tip is a major timesaver.
You can serve this as a side or toss it with Israeli couscous for an easy vegan dinner. If you do the latter, though, make a double batch of dressing so that there's enough to coat the couscous as well.
And leftovers — if you have any — make a great lunch the next day.
Roasted Cauliflower and Chickpeas with Mustard and Parsley
Ingredients
1 14-ounce can chickpeas, rinsed, drained, and dried
1 head of cauliflower, outer leaves removed and discarded, cut into bite-sized florets
3 tablespoons plus ¼ cup olive oil, divided
Coarse sea salt
1 tablespoon Dijon mustard
1 tablespoon seeded mustard (i.e., grainy mustard)
1 tablespoon white wine vinegar
Freshly ground black pepper
¼ cup chopped Italian parsley
1
Preheat the oven to 400 degrees and set the rack in the middle. Toss chickpeas and cauliflower together in a large roasting pan with 3 tablespoons olive oil and a big pinch of salt. Roast, stirring now and then, until everything is dark brown and the cauliflower is quite soft, about 45 minutes.
2
Meanwhile, whisk together both mustards, vinegar, and ¼ cup of olive oil with a big pinch of salt and a few healthy grinds of black pepper. While the chickpeas and cauliflower are still warm, toss them with the mustard dressing and the parsley. Serve warm or at room temperature.