Rice and Lentil Pilaf with Caramelized Onions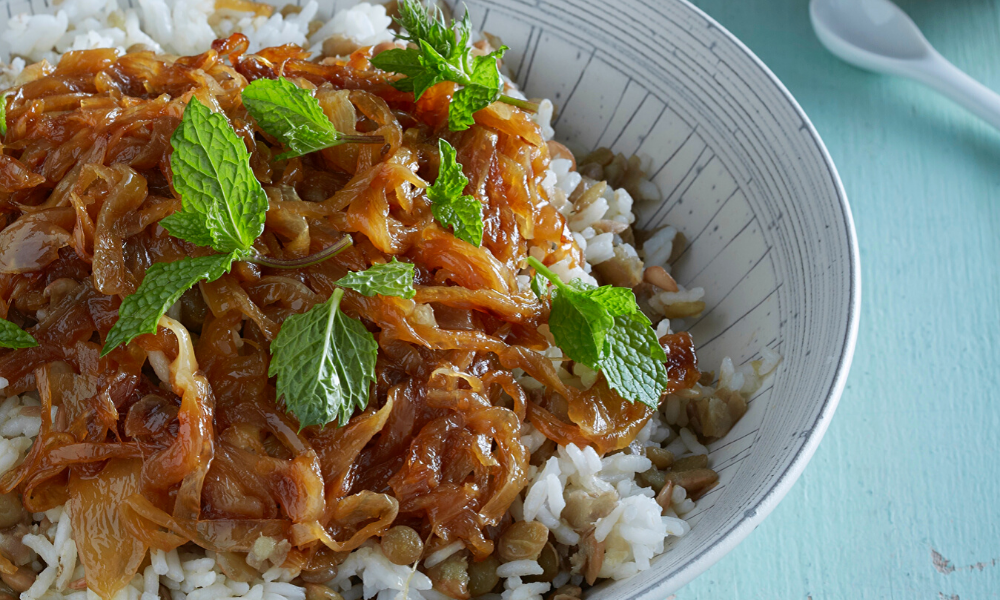 This flexible pantry dish can double as a side or a hearty main. And even better? It shows how caramelized onions can turn the simplest dish into something special.
A simple riff off of a Middle-Eastern dish called Mujadara, this super flavorful and very affordable combination of rice and spice-scented lentils takes a few steps, but turns out a side dish that can step into the spotlight whenever you need it to. It's also made with all-pantry ingredients, which is particularly helpful these days.
When you make the caramelized onions, consider whipping up a double batch. They're incredibly delicious, store well in the fridge, and work well on top of simply prepared proteins, as a pizza topping (perfect on a white pie with thinly sliced potato), to dress up beans or a baked potato — and so much more!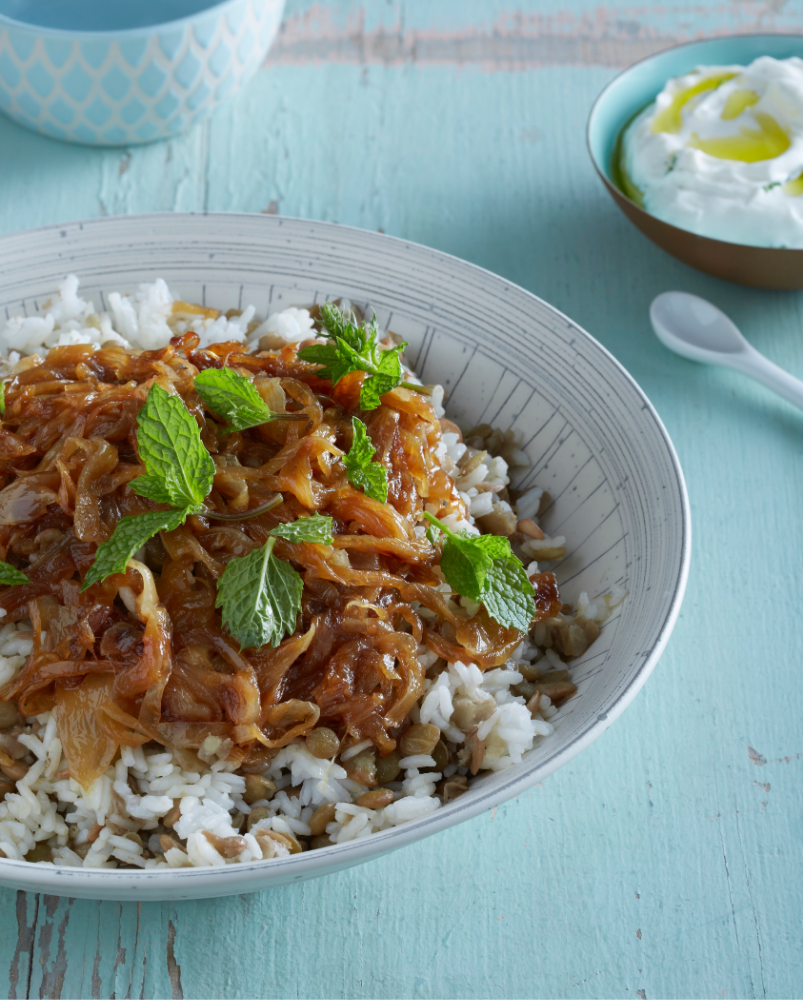 Ingredients
1 cup brown lentils, rinsed and sorted
5 whole peppercorns
2 whole cloves
1 bay leaf
1 teaspoon salt, plus more to taste
1 cup uncooked white rice
1 tablespoon unsalted butter
1 whole star anise (optional, but recommended)
Freshly ground black pepper, to taste
Olive oil, to finish (optional)
1 cup Caramelized Onions, to serve (recipe below)
½ cup plain Greek yogurt, for garnish (optional)
2 tablespoons chopped fresh mint, for garnish (optional)
1 tablespoon freshly squeezed lemon juice, from half a juicy lemon, to finish (optional)
1
Place 2 1/2 cups of water and the lentils, peppercorns, cloves, and bay leaf in a medium pot set over medium heat. Bring to a boil, then reduce heat to maintain a gentle simmer. Cook, uncovered, until the lentils are cooked through but not mushy, 20-30 minutes. (You may need to add water along the way to ensure that the lentils remain just barely covered with water as they cook.) Drain, picking out the peppercorns, cloves, and bay leaf; season with ½ teaspoon of the salt and set aside.
2
In the meantime, place the rice in another medium-size pot along with 2 cups of water, the butter, star anise, and remaining ½ teaspoon of salt. Cook according to package directions and set aside.
3
When ready to serve, transfer the lentils and rice to a large serving bowl and gently stir to mix well. Season with salt and pepper to taste; I also like to add a teaspoon of good olive oil. Top with the caramelized onions. If desired, combine yogurt with a drizzle of olive oil (up to 1 teaspoon), mint, lemon juice, salt, and pepper to taste and dollop on top of each serving.
Ingredients
5 tablespoons olive oil
3 medium-large onions, peeled, halved and thinly sliced (about 6 cups sliced onion)
½ teaspoon salt
1
Set a large pot or high-sided skillet over medium heat. Once the pan is hot, add oil and swirl, allowing it to heat up, about 30 seconds. Add onions and salt; stir to coat onions well.
2
Cook until onions are soft, golden, and browned n spots, for 30 minutes, stirring occasionally. If you slice the onion thin enough, it might even seem like some are melting. This is good! Remove from the heat, cool for 5 minutes and use immediately, or store in a sealed container in the refrigerator for up to 5 days.