One-Bowl Honey Graham Crackers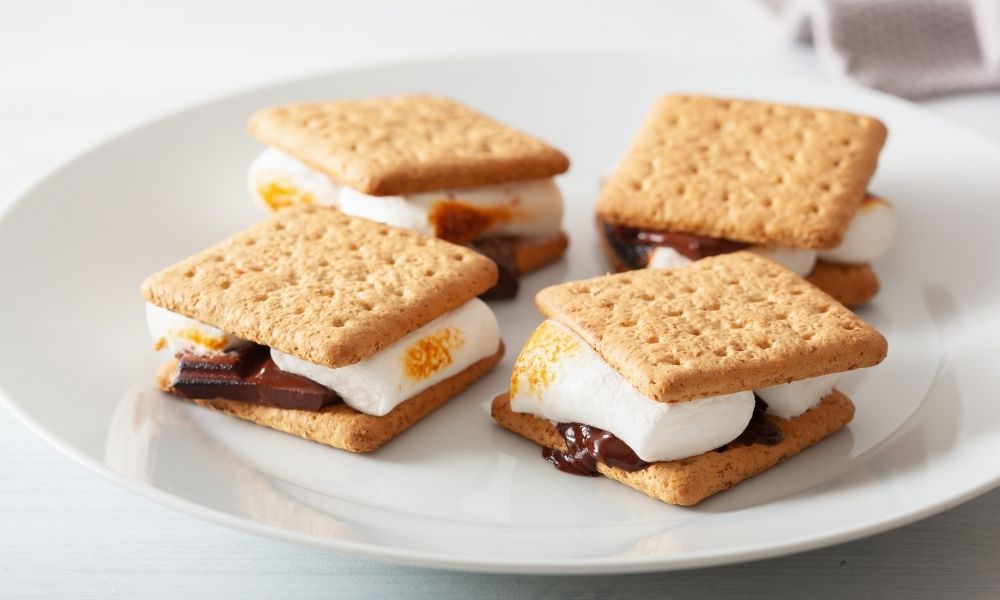 A childhood classic, graham crackers are what snack time memories are made of.
Slightly sweetened with honey and, if you ask me, only done right with a touch of cinnamon, this snack — something between a cracker and a cookie — goes with anything from chocolate and marshmallow to mashed bananas.
— This recipe was mentioned in an episode of Didn't I Just Feed You —

In most recipes that call for whole wheat pastry flour, I say that you can substitute all—but not in this one. Graham crackers made without graham or some form of whole wheat flour are just not graham crackers. The good news is that is you invest in a bag of whole wheat pastry flour for this recipe, it's interchangeable with all-purpose flour and can easily be used up.
One-Bowl Honey Graham Crackers
Makes one dozen 3-inch-square crackers
Ingredients
3 tablespoons unsalted butter
3/4 cup all-purpose flour
3/4 cup whole wheat pastry flour (see note above)
1/3 cup granulated sugar
1/4 cup dark or light brown sugar (preferably dark)
2 teaspoons baking powder
3/4 teaspoon salt
1/2 teaspoon ground cinnamon
4 tablespoons milk
1 tablespoon honey
1
In a small saucepan or in the microwave, melt the butter and set aside to cool. In the meantime, in a large bowl, whisk together the flours, granulated sugar, brown sugar, baking powder, salt, and cinnamon.
2
To the dry ingredients, add the cooled butter, milk, and honey. Mix, using a silicone spatula or wooden spoon, until combined. The mixture will be crumbly; when you can't stir any longer, ditch the spoon and use your hands to knead the dough into a ball — this may take a minute or two and requires a lot of pressing and molding. Place the bowl with the ball of dough in the refrigerator for 30 minutes. If you plan to leave it in the refrigerator longer or you'd like to freeze the dough, wrap it in plastic wrap first.
3
Take the dough out of the refrigerator 30 minutes before you're ready to bake and preheat the oven to 350°F. Place a piece of parchment paper on a work surface and place the dough on top. Once the dough has warmed up enough to roll it out, press down, shaping the ball into a flattened rectangle. Place another piece of parchment paper on top of the dough and roll into a 12 x 9-inch rectangle that's about 1/8 inch thick. The dough will still be a little crumbly (too much moisture and the crackers won't crisp!), but just press it back together and keep rolling.
4
Remove the top piece of parchment paper and discard. Use a sharp knife or pizza cutter to cut the dough into twelve 3-inch-square crackers. Using a spatula, separate the crackers so that there is a little bit of space between each one. Lastly, use a fork to poke holes in each cracker and transfer the parchment paper with its crackers to a baking sheet. Place in the oven and bake until fragrant and just golden brown around the edges, about 17 minutes. Remove from the oven and allow to cool on the baking sheet for 5 minutes before transferring the crackers to a wire rack to finish cooling completely. These can be served immediately or stored in a sealed container or resealable plastic bag on the counter for up to 1 week.