Chicken Thigh Ragu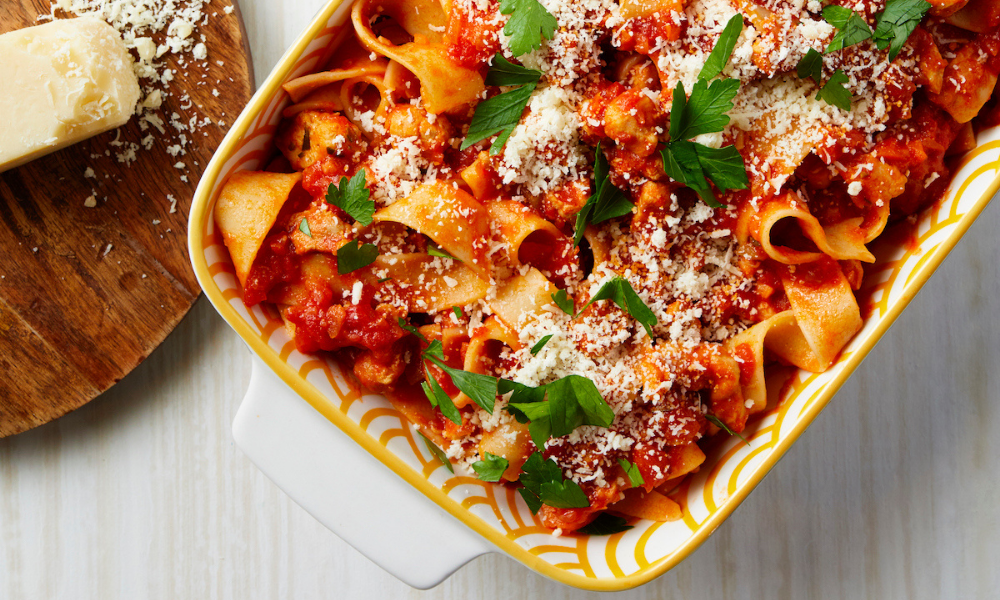 My older son once said, " When your mom is a food writer, you don't have comfort foods, because she never makes the same things over and over." That's not true, I protested as I handed him a bowl of pasta dressed in our favorite Chicken Thigh Ragu.
Well, it's not exactly true.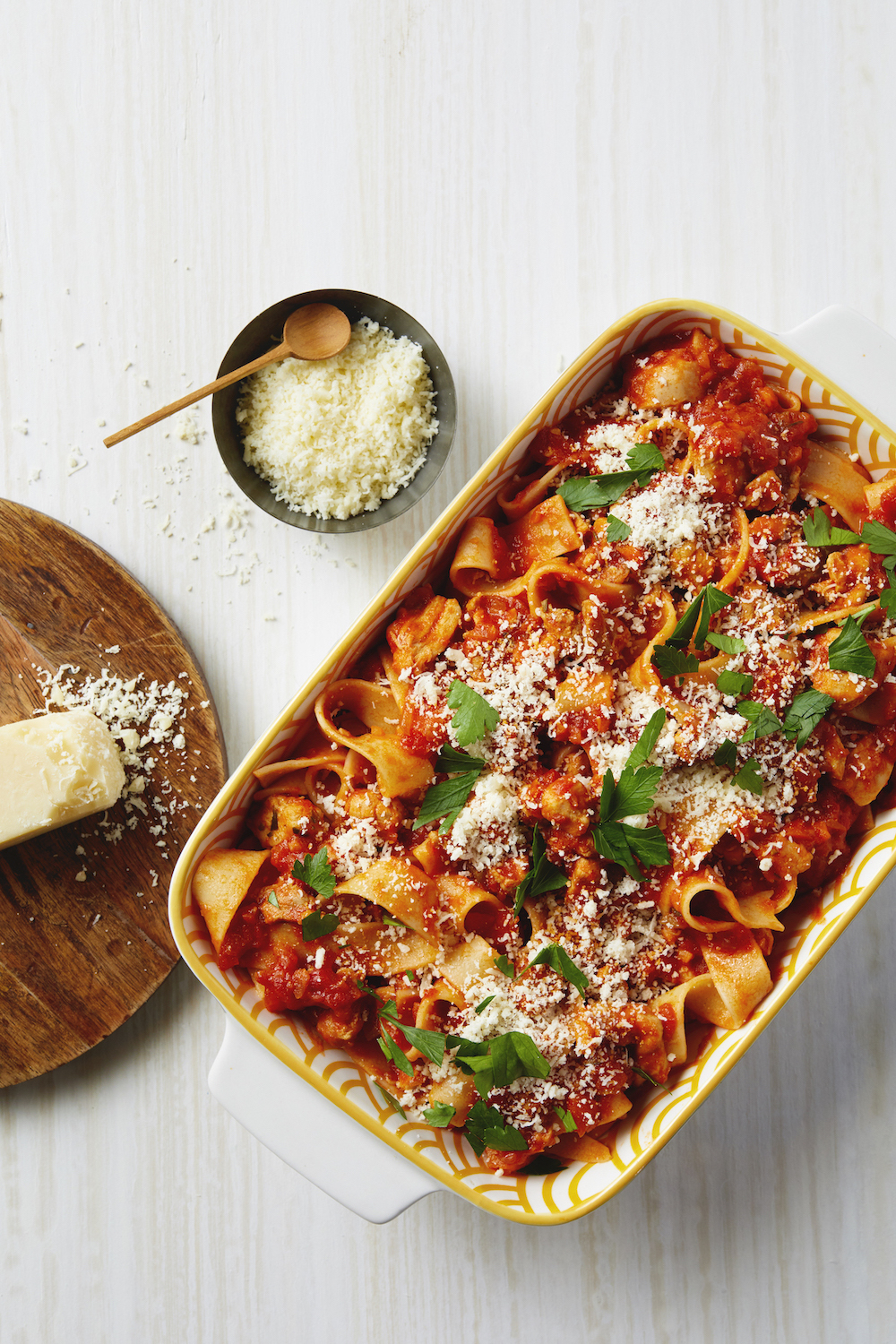 As I started running through dishes that I think of as his comforts, we agreed that pasta with meat sauce was at the top of the list. "You're eating it right now!" I proclaimed. But as kids are always wont to do, he pointed out that I don't have just one single meat sauce recipe. There's my ground beef meat sauce, my pulled meat sauce that combines beef and pork, and this Chicken Thigh Ragu.
So I guess we were both a little right and a little wrong. But at least he gets to eat a lot of delicious pasta with meat sauce — and apparently this is his favorite of all of them.
Cook's Note:
For  sauce that cooks so quickly, this is very robustly flavored, but the prep work takes quite a bit of time if you opt to chop everything by hand. I strongly recommend that you use a food processor to finely pulse the chicken.
If you also use a food processor to chop the vegetables, do so before pulsing the chicken. It makes for way easier cleanup. Also note that chopping veggies in a food processor can make them watery. If this happens, they may need to cook longer in step two.
Ingredients
1 (28-ounce) can whole peeled tomatoes
4 tablespoons olive oil, plus more to finish
6 garlic cloves, finely minced or grated
5 large shallots, minced
2 stalks celery, minced
1 carrot, minced
2 pounds boneless, skinless chicken thighs, finely chopped
1 tablespoons minced fresh rosemary
3 teaspoons salt
1/2 cup white wine
1 (15-ounce) can plus 1 (8-ounce) can tomato sauce
1 tablespoon sherry vinegar, to finish
1 pound cooked pasta, for serving
1
Place the tomatoes and their juices in a bowl and, using your hands, break up the tomatoes, discarding the tough bits; set aside.
2
Heat two tablespoons of the oil in a large pot set over medium heat. Add the garlic, shallots, celery, and carrot, and sauté until the vegetables are soft and fragrant, 5 to 8 minutes.
3
Add the chicken, rosemary, and salt. Cook until the chicken cooks through, about 10 minutes. Turn the heat to medium-high and add the wine; cook until it evaporates, 7 to 8 minutes, periodically breaking up the chicken with the back of a fork or wooden spoon.
4
Add the tomatoes, both cans of tomato sauce, 8 ounces of water used to rinse the smaller can of tomato sauce, and the remaining two tablespoons of oil. Bring the sauce to a boil, lower the heat to medium-low (or whatever allows it to simmer), and cook until the sauce reaches the desired consistency, about 30 minutes.
5
Remove the pot from the heat and stir in a hearty glug of oil and the vinegar. Season to taste with more salt, if desired. Serve immediately with pasta or allow to cool completely before storing in the refrigerator for up to 5 days or in the freezer for up to 3 months.