Make-Ahead Ham and Cheese Muffins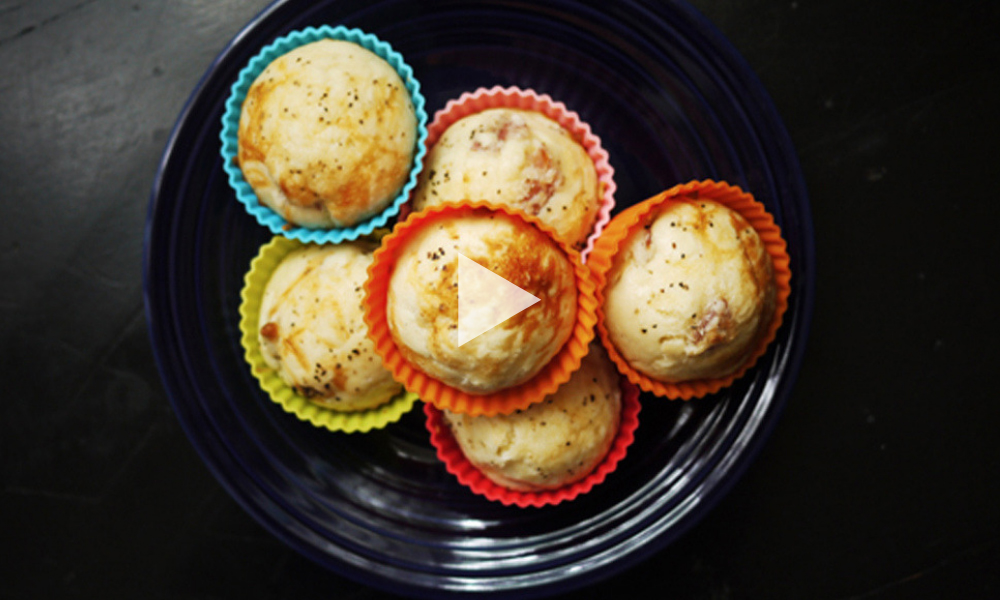 This savory muffin recipe is a fresh take on the classic ham and cheese sandwich. But not only is it tastier than a regular sandwich, it can also be made ahead of time. How many sandwiches can you say that about?
This recipe is as basic as it gets: a simple muffin batter with shredded cheddar and diced deli ham folded into it. With just a handful of easy-to-find ingredients, two bowls, and a whisk, you'll have fresh muffins that make both a fantastic school lunch and lower-sugar after-school snack in just 25 minutes.
______________
RELATED: The After-School Snack Problem Solved. (Sorta.)

______________
And bonus: These muffins satisfy big kids as much as they do little ones.
Ingredients
2 cups all-purpose flour
2 tablespoons granulated sugar
1 tablespoon baking powder
1 teaspoon salt
2 eggs, beaten
1 cup milk of choice
1/4 cup (4 tablespoons) unsalted butter, melted and slightly cooled
1 cup shredded cheddar cheese, plus more for garnish
1/2 cup diced ham (about 6 deli slices)
Fresh black pepper, for garnish (optional)
1
Preheat oven to 400 degrees F. Line a 12-cup muffin tin with paper or silicone muffin liners and set aside. In a medium bowl, whisk together flour, sugar, baking powder, and salt.
2
In a separate bowl, combine eggs, milk, and butter. Add these wet ingredients to the dry and mix lightly (e.g., with a wooden spoon, not a mixer) until well combined. Once the batter is smooth, fold in cheese and ham.
3
Spoon batter into lined muffin tin, filling each well about 3/4 of the way. If you like, sprinkle some more shredded cheese and freshly cracked black pepper on top. Bake for about 17 minutes or until a toothpick inserted into the center of the muffin comes out clean. Remove muffins from the oven and allow to cool in the pan for 10 minutes before removing muffins from the tin so that they can finish cooling on a rack or your counter. See notes above about storing.