Lomo Saltado: Peruvian Beef Stir Fry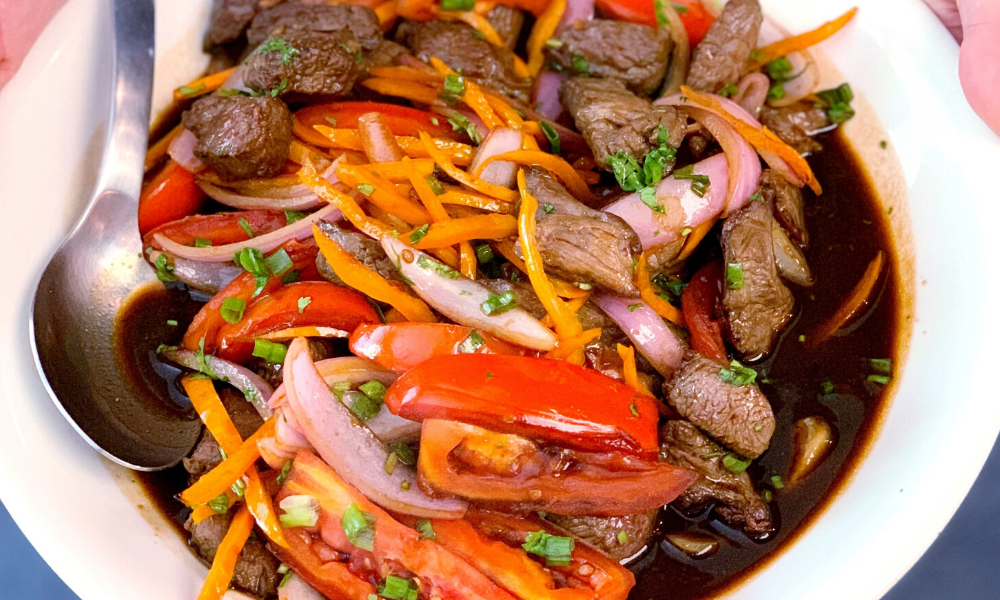 If you're looking a fresh twist on a classic family weeknight dinner, look no further than this recipe for Lomo Saltado, a Peruvian beef stir fry.
Traveling through Peru, it became clear to me why it has become a culinary capital of the world. The cuisine is varied and wildly delicious all across the country — not just in the cities or in restaurants with world-renowned chefs. It is also part of a deep, rich history that's still very connected to indigenous ingredients.
There's so much about  Peruvian food that I want to share with you, from a grain snack I learned about in an indigenous community in the Andes to classic ceviche (both of which my kids loved), but the most practical place to begin is with Lomo Saltado, a Peruvian beef stir fry that's incredibly popular all over the country.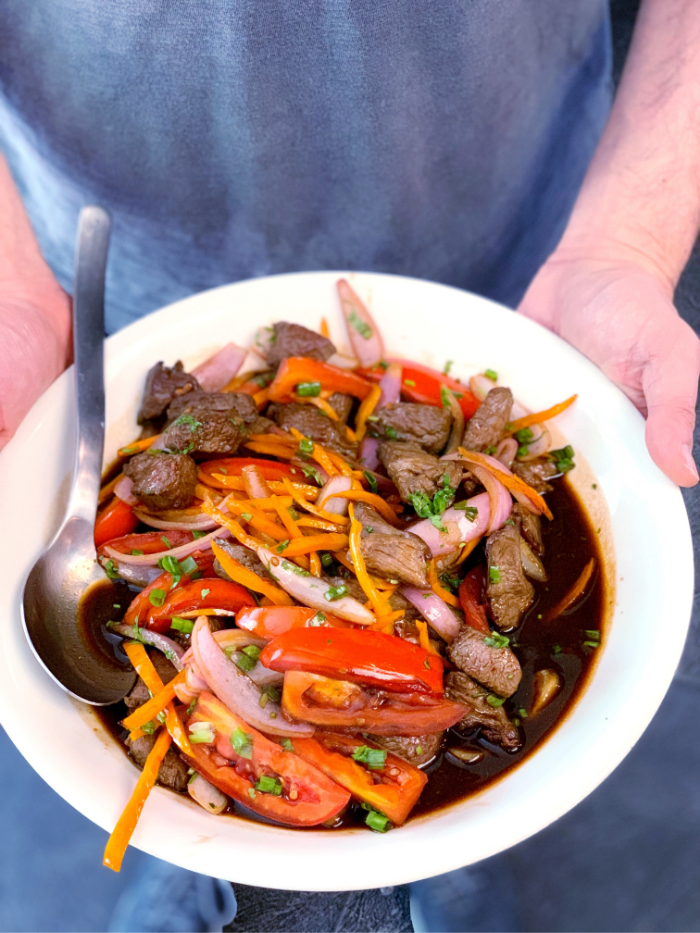 Lomo Saltado is a staple dish of Peruvian chifas, Chinese food restaurants found around nearly every corner, that serve a Peruvian-version of Chinese food not dissimilar to American-Chinese food. It is the food that emerged as Chinese immigrants to Peru cooked their traditional foods using ingredients they could find locally in Peru.
This version of beef stir fry is so popular in Peru that it's often served alongside classic Peruvian dishes like roast chicken and ceviche in Peruvian restaurants stateside. But you don't have to go to a restaurant to get your fix.
Lomo Saltado is incredibly easy to make at home and very kid-friendly. If you want to serve it in true Peruvian home-style fashion, plate your Lomo Saltado with steamed white rice that has some hominy tossed in and crispy sliced potatoes.
Starch with starch with starch: the Peruvian way. And beyond delicious.
Note:
I learned how to make this in Lima, Peru while using local Peruvian ingredients. The recipe calls for a couple of ingredients that may require substitutions. First, Peruvian yellow chiles are called aji amarillo and may be difficult to find. If so, Serranos will give you a similar heat, while Habaneros or Scotch Bonnet peppers will give you a more similar flavor profile. You can skip the peppers all together, or just use what you can find: even a red (or green) jalapeno will work fine.
The recipe also calls for Pisco, a Peruvian liquor made of grape skins. Like aji amarillo, pisco has a flavor all its own and isn't easy to substitute. You can skip it or use grappa, tequila or even a splash of brandy in a pinch. Even though it's not the same, I find that using on of these other liquors really does lend a layer of flavor that's worth it.
Lomo Saltado (Peruvian Beef Stir Fry)
Ingredients
6 tablespoons soy sauce
3 tablespoons white vinegar
2 tablespoons oyster sauce
Neutral oil, such as grapeseed
1 1/2 lbs beef tenderloin, trimmed and cut into approximately 2-inch pieces
2 red onions, cut in a thick julienne
2 yellow chiles, cut in a thin julienne*
1/4 cup Pisco (optional)*
2 plum tomatoes, cut into 6-8 wedges
3 scallions, trimmed and chopped
Chopped cilantro, to taste
1
Start by making your sauce: combine the soy sauce, vinegar, oyster sauce, and 2 tablespoons of water; set aside.
2
Heat a wok or large skillet over a medium-high flame and, once hot, drizzle just enough oil to lightly slick the surface and add the beef. Sear the meat until cooked to your temperature of choice. Remove the beef from the wok and set aside.
3
Return the wok to medium-high heat and add the onions and chile peppers. Saute until crisp-tender.
4
Return the seared beef to the wok along with the onions and peppers. If using pisco, add it here and cook until all of the alcohol evaporates.
5
Add the sauce and tomatoes. Cook until the sauce reduces by about half (or to desired consistency). Add scallion and cilantro; toss to combine well and remove the wok from heat. Serve hot over rice (with hominy, if Peruvian style).