How to Make Classic Potato Latkes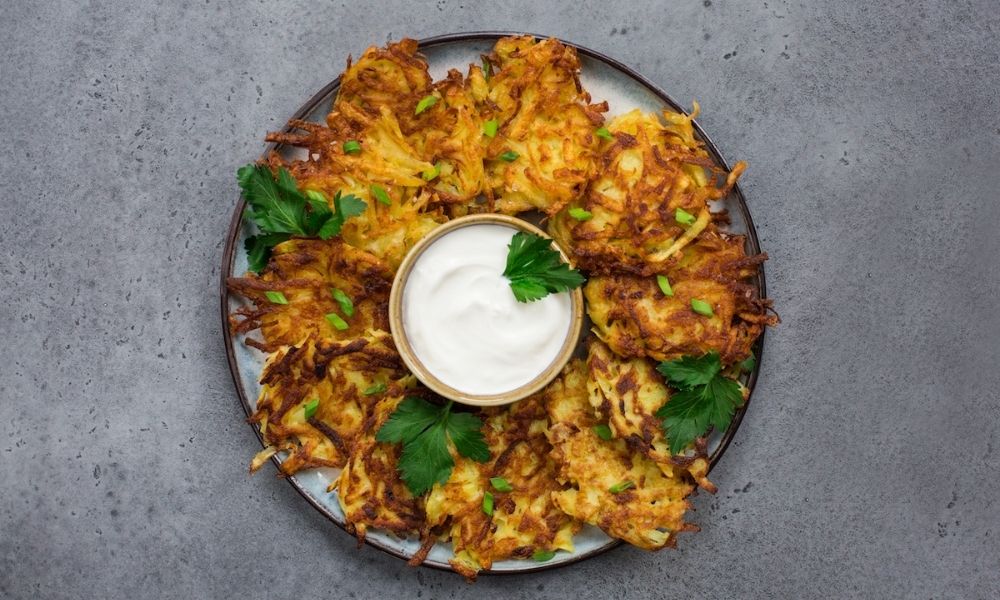 I've tried many latkes in my life and these are both the simplest and the best.
Many years ago, I volunteered to make these as part of a latke cook-off. They won. I was the only cook who wasn't Jewish, but rest assured: this recipe was graciously shared with me by a Jewish family with whom I'm very close. It has been passed down in their family for many generations (they call them Bubba's Potato Latkes), and now it will be passed down in mine.
We celebrate Hanukkah and Christmas, and celebrating both can be exhausting. We've learned that we have to sacrifice and shortcut some aspect of each holiday to make the dual celebration manageable. Gifts for only one of the holidays and volunteering/donating gifts for the other. Choosing between homemade sufganiyot (Hanukkah jelly donuts) and Christmas cookies and buying the other store-bought. And so on. But there's one tradition that we never compromise:
Making these latkes. They are always and forever part of Hanukkah.
There are so many latke recipes out there, I know. You can add other veg, use sweet potato, caramelize onions, use shallots, waffle them, add apple… the possibilities are endless. But these are simple and perfect. I'd never mess with them.
If you like the classic thin, crispy, potato and onion heavy latkes, try these and you may find they'll be a part of your Hanukkah always and forever too.
Bubba'a Classic Potato Latkes
Ingredients
6 large russet potatoes
1 cup minced onion (pulsed in a food processor is best)
3 large eggs
1 egg yolk
2 tablespoon flour (or matzo meal if not using flour)
3 teaspoons salt
1/4 teaspoon white pepper
Canola oil, for cooking
Chives, for garnish
Sour cream, for garnish
Apple sauce, for garnish
1
If you expect to need to keep the latkes warm before serving, heat your oven to 250 degrees. In the meantime, peel potatoes and place in a large bowl or pot filled with water to prevent browning. Once they are all peeled, coarsely grate potatoes by hand (using the large holes of a box grater) or in a food processor fitted with a shredding attachment.
2
Combine potato and onion and, using your hands, mix together well.
3
Time to squeeze out as much moisture as possible! You can squeeze the mixture with your hands by the fistful or press down on the mixture in a colander. I find it easiest to wring the mixture, bit by bit, in a clean dish towel (if you do this, be sure to use one that you don't mind staining!). Once all of the mixture has been squeezed dry, set it aside in a large mixing bowl.
4
Beat together eggs and yolk, then add to the potato mixture along with the flour, salt, and pepper. Combine ingredients well.
5
Coat the bottom of a 12-inch skillet very generously with oil and set over medium-high heat until hot, but not smoking. Form potato mixture into flat patties and carefully drop into the hot oil, working in batches of 4 to 5 latkes at a time. Reduce heat to medium and fry each latke until golden brown on one side, then flip, press down on them, and cook the other side until golden brown as well. Repeat until all of the potato mixture has been fried, adding more oil to the skillet as needed between batches.
Transfer cooked latkes to a paper towel lined plate or keep latkes warm on a wire rack set in a shallow baking pan placed in the oven.
Serve latkes warm topped with chives and alongside sour cream and apple sauce.