Lighter Fettuccine Alfredo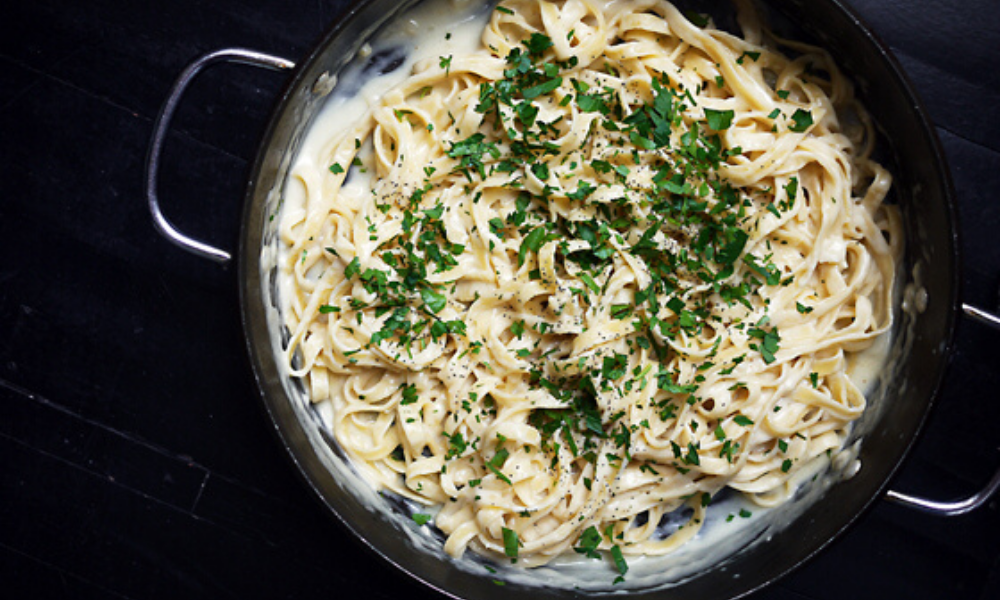 This is one of my most popular recipes of all time.
I first developed it five years ago, when I dubbed it "Skinny" Fettuccine Alfredo. It's amazing how much has changed in that time. Namely, my awareness that calling a recipe "skinny" is misleading, misinformed, and insensitive. Because low-fat doesn't make you skinny, skinny isn't better, and qualifying something as skinny can be a trigger for some eaters.
Dumb. (SEO friendly, but dumb.) So I'm bringing this recipe back with a new name. Because it's fast, easy, tasty, and lighter than the traditional version for when you want that. Because it's so good.
To lighten this normally heavy dish, I swap flavorful chicken broth and milk for cream, and thicken to two with a little flour and Parmesan cheese. And remember when I said that this sauce is fast? It comes together in less than the 15 minutes it takes to cook the the sauce comes together in less than the 15 minutes that it takes to cook the fettuccine.
Check out the recipe below, listen to the the latest episode of Didn't I Just Feed You to get the low down on all the other recipes I'm cooking right now, and hop over to my Instagram for a pro-tip on how to vary this one to make a creamy cajun pasta.
Lighter Fettuccine Alfredo
Ingredients
1 lb cooked fettuccini pasta
3 cloves garlic, chopped
2 tablespoons olive oil
2 tablespoons flour
1 cup chicken broth
1 cup milk
1 cup grated Parmesan cheese
Salt and freshly ground pepper
Chopped, fresh parsley, to garnish (optional)
1
Add garlic and oil to a large high-sided pan set over medium heat. Cook until garlic is just fragrant, about 2 minutes, and whisk in the flour, whisking until the mixture is smooth.
2
Add broth and whisk some more. Cook for 30 seconds or so and add milk. Keep whisking to make sure that your sauce stays smooth. Cook for 3 minutes or so, until the sauce thickens. (Be careful not to thicken the sauce too much since the cheese will thicken it further.)
3
Remove sauce from heat and whisk in the Parmesan; keep whisking until smooth again.
4
Add cooked pasta to the pan and, using tongs, toss until all of it is well coated. Finish with chopped parsley and serve immediately.