How to Make Fresh Ricotta Cheese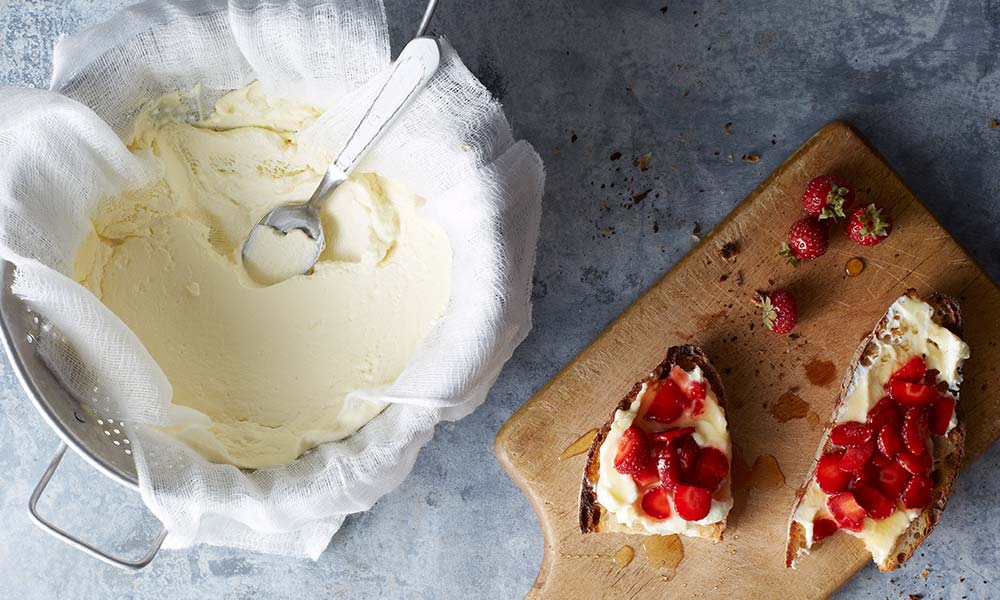 As much as I love to cook, I never imagined that I'd be someone who made homemade ricotta cheese on a fairly regular basis — or that I'd suggest it to you. I know you're busy. But hear me out, because after making just one batch, I was hooked and think that you will be too.
Making homemade ricotta is just so insanely easy. And the results are so far beyond anything you'll get at the store. This combination makes it worth the minimal effort.
If you have any interest in eating or cooking with ricotta cheese, I beg you to make this just once. During the holidays is the perfect time to give it a try. It will wow your guests and you get to say you made homemade cheese.
But if you just won't, at least splurge on fresh ricotta cheese from a cheese monger or gourmet grocery store. It's pricey, but even if getting the good stuff means eating ricotta less often, well, then, eat it less often. (Is that's not motivation to try this recipe, I don't know what is?!)
Ingredients
3 cups whole milk
1 cup heavy cream
¾ teaspoon salt
3 tablespoons freshly squeezed lemon juice (from about 1½ juicy lemons)
1
Place the milk, cream, and salt in a medium size, non-reactive (i.e., glass, stainless-steel, or enamel-lined) pot set over medium-high heat. If you have one, attach a thermometer (candy or deep fry will do) to the side of the pot and heat the mixture to about 180F, stirring occasionally to keep the dairy from scorching. If you don't have a thermometer to attach to the side of the pot, use a meat thermometer to gauge the temperature; look for early signs of bubbling to know when to check the temperature since, 180F is the point at which the milk will begin to simmer.
2
Remove the pot from the heat and add the lemon juice. Gently stir two or three times to ensure that the lemon juice is evenly distributed before leaving it, undisturbed, until curdled, about 5 minutes.
3
In the meantime, line a colander or strainer with two to three layers of cheesecloth and place it over a large bowl to catch the whey. Pour the curdled milk into the prepared colander and strain for 1 to 2 hours, depending on your desired consistency for the cheese. The longer the cheese strains, the thicker and more firm it will be.
Tip and Storing
If, as they cheese strains, the whey fills the bowl too much, pull up the edges of the cheesecloth and hang the bundled curds somewhere where they can continue to drain without the whey soaking back in.
When done, store the whey separately (it's so nutritious!) and serve the ricotta immediately or store in a sealed container in the refrigerator for up to 5 days.