Spooky Halloween Dinner Idea: Pasta and Eyeballs!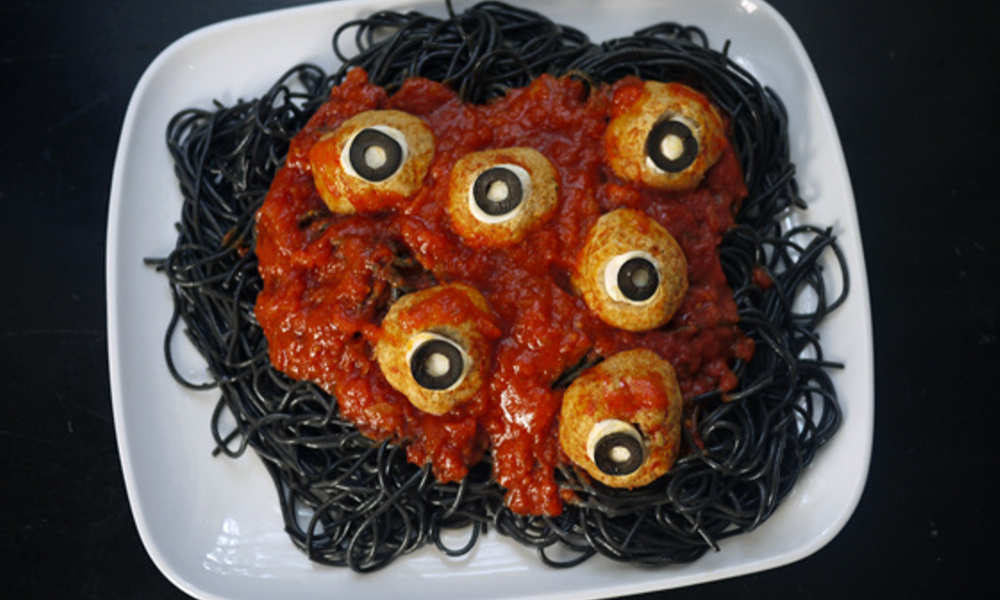 This spooky Halloween dinner idea never gets old. My nearly 13-year-old still loves his annual bowl of pasta and eyeballs!
This is one of my very favorite Halloween meals. I've made it before trick-or-treating, because:
a) spaghetti and meatballs always win and you need a winning dinner before all that candy, and
b) it's easy to prep ahead and/or use store-bought shortcuts. Still, if this seems like too much work to pull off between school pick up, getting dressed, and heading out for Halloween fun, then make it the weekend before to get in the mood.
To make this, you'll need black spaghetti, which is traditionally colored with squid ink. It's essential to the fun and can be found at specialty food stores or on Amazon. The catch is that it can be expensive; you can try using more affordable black bean spaghetti as an alternative.
Once the pasta is cooked (here's my method for how to cook pasta perfectly), it's time to put together the eyeballs. For those, you'll need bocconcini, which are mini balls of fresh mozzarella cheese, a batch of meatballs (homemade or store-bought), and canned black olives.
1. Cut each bocconcini in half.
2. Use a paring knife to cut a round divet out of the meatball and tuck in a halved bocconcini, cut side facing out.
3. Slice a few black olives and place one slice on top of the bocconcini.
Slather the black pasta in your favorite plain tomato or marinara sauce (aka blood!) and place eyeballs throughout.