Three-Ingredient Appetizer: Fried Halloumi with Cranberry Chutney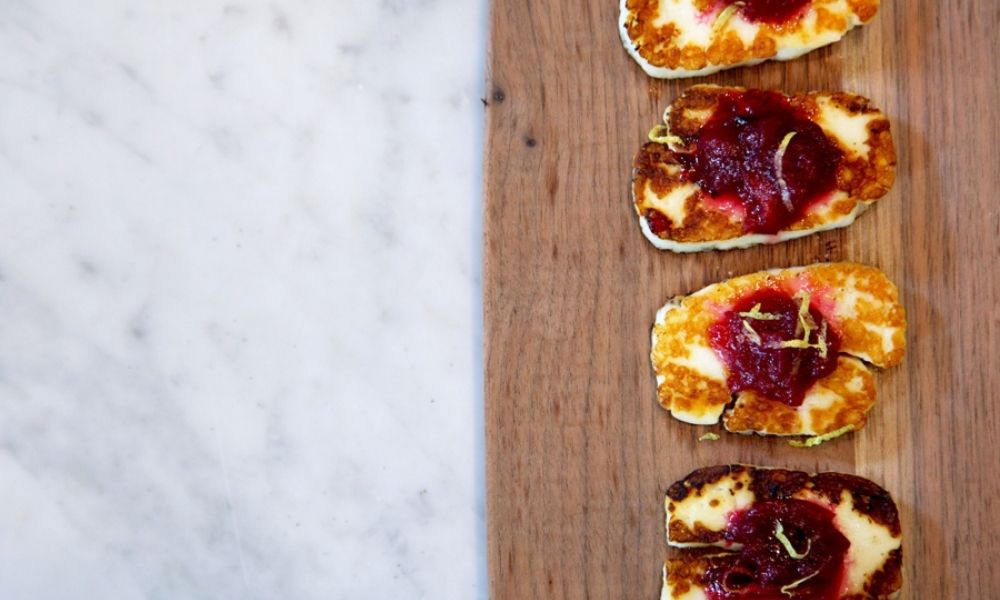 This three-ingredient appetizer helps you make the most of your holiday cooking time.
Make a big batch of my Spiced Instant Pot Cranberry Sauce for your holiday meal, then save some for this quick and easy holiday appetizer. Right before serving, slice and fry Halloumi, then top with a squeeze of fresh lemon juice and your leftover cranberry sauce. Serve right away.
Everyone wins — especially you.
NOTE:
You can also use store-bought cranberry sauce or chutney, which makes this even easier!
Fried Halloumi with Cranberry Chutney
Ingredients
Halloumi cheese (figure on 2-3 slices per person depending on how much else you're serving, and about 8 slices per package)
Lemons, for fresh lemon juice (1-2 should be plenty, even for a big party!)
Lemon zest, optional
Cranberry Chutney, store bought or homemade
1
Heat a grill pan or skillet over medium-high heat. In the meantime, slice the Halloumi cheese about 1/4-inch thick. Throw into the hot pan and cook until golden brown on one side. Flip and cook until golden brown and melty on the other side, as well.
2
Transfer fried cheese to a serving platter and give a light squeeze of fresh lemon juice.
3
Top each slice of fried cheese with a dollop of cranberry chutney; about 1 teaspoon is plenty. Garnish with lemon zest if using. Serve immediately.