Chicken-Apple Sausage Stuffing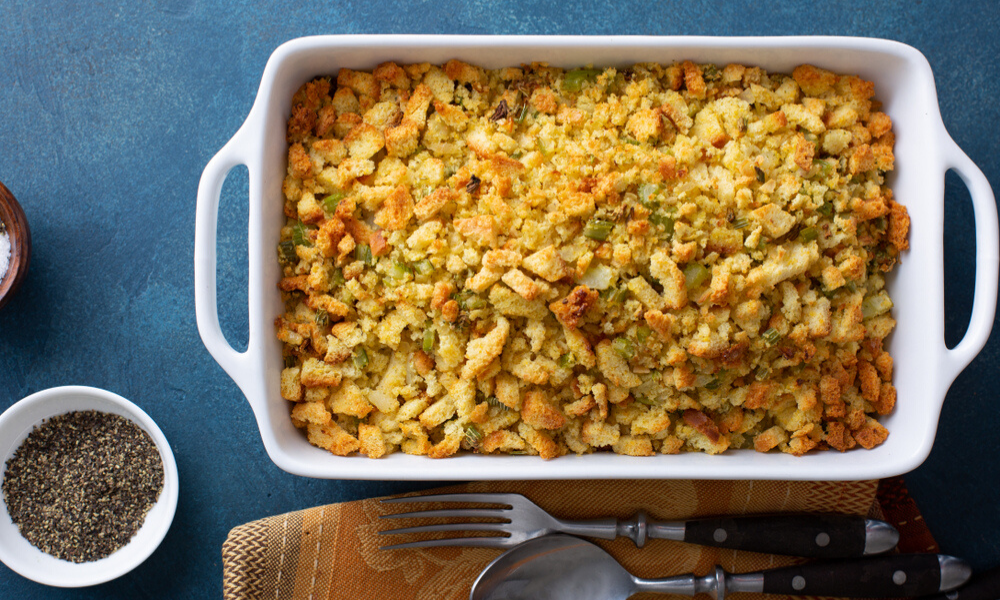 I'd like to say that I only eat this stuffing at Thanksgiving, but it would be a lie.
This is so easy and delicious to make, that I whip it up several times a year, often to go along with a simply roasted chicken. And it is so worth it.
An unexpected pair of ingredients — apples and Pecorino cheese — make this rustic dressing seem fancier than it really is. A good thing during the holidays. And the light touch of herbs, unusual for a lot of stuffing recipes that rely heavily on rosemary, sage, and/or thyme, helps this recipe strike a gorgeously balanced flavor: sweet, nutty and savory.
Notes:
If you make this for Thanksgiving and happen to be one of those cooks who preps turkey stock (or buys some from your butcher), by all means: use that! Otherwise, I promise good old fashioned chicken stock will work just fine.
Also, this makes a soft dressing. If you want a dressing with a crunchy top, add up to a 1/2 cup additional broth, transfer the mixture to an oven-safe dish, brush the top with melted butter, and bake for about 20 minutes. If the top isn't crunchy enough for you, set the baking dish under the broiler instead of baking it longer to avoid drying out the stuffing.
Chicken-Apple Sausage Stuffing
Ingredients
3 tablespoons olive oil
2 tablespoons unsalted butter
1 1/2 cups chopped onion
1 1/2 cups chopped carrot
1 cup chopped celery
1/2 cup chopped leeks
1 tablespoon minced garlic
12-ounces chicken-apple sausage, chopped into 1/2″ pieces
1 cup chopped dried apple
1 teaspoon salt, plus more to taste
1/2 teaspoon ground nutmeg, freshly grated preferred
Freshly ground black pepper
6 cups cubed stale bread (I like sourdough)
4 cups chicken broth, plus more if necessary (see note)
1/4 cup grated Pecorino cheese
2 tablespoons chopped fresh sage
1
In a large Dutch oven set over medium-high flame, heat oil and butter. Once the butter begins to foam, add the onion, carrots, celery, leeks, and garlic; saute until the vegetables soften and onions go translucent.
2
Push the vegetables against the sides of the Dutch oven creating a well in the center and add the sausage in the open space. Cook for 5 to 7 minutes to brown before stirring the sausage and vegetables together.
3
Add dried apple, a teaspoon of the salt, nutmeg, and pepper. Continue cooking until the sausage and vegetables begin to caramelize, another 5 minutes or so. Remove the pot from the heat; if your Dutch oven is large enough, add the stale bread to sausage mixture and set aside. Otherwise, transfer the sausage mixture to an extra large bowl, add the stale bread, and then set aside.
4
Heat broth in a separate pot set over medium heat. Pour the hot broth over the bread and sausage mixture. Stir, allowing the bread to soak up the moisture. Add pecorino and sage and stir to combine. Taste and, if necessary, adjust seasoning and liquid. Serve or see note for additional step if you want a crunchy-topped dressing.