Sheet Pan Chicken Shawarma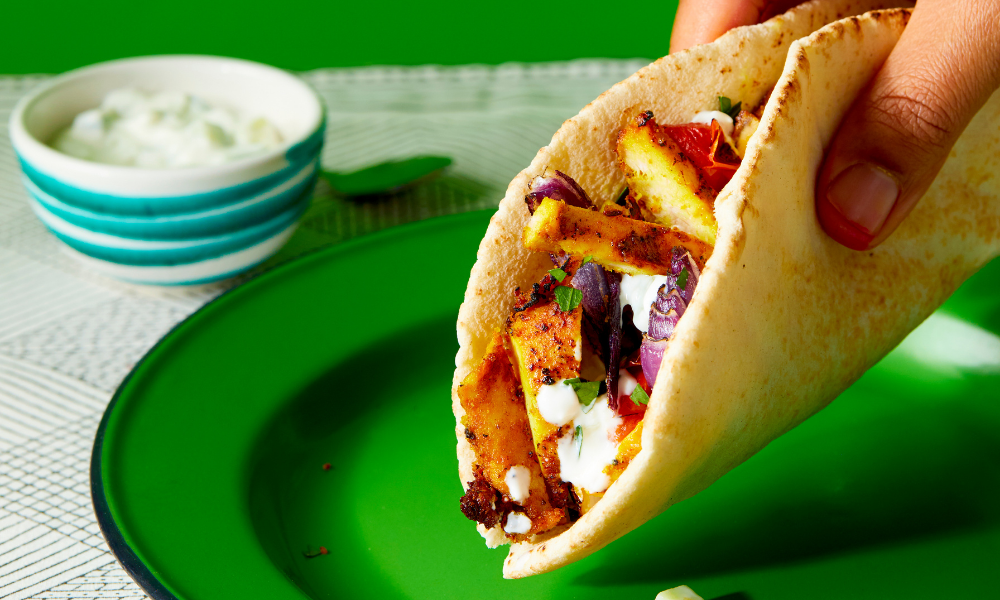 This Sheet Pan Chicken Shawarma recipe from my Winner! Winner! Chicken Dinner cookbook helps turn the street food classic into an at-home dinner.
For my kids, growing up half Greek in Brooklyn, anything comes wrapped in flatbread is pretty much comfort food. While there is a difference between Greek gyro and Middle Eastern shawarma — and even variations between Turkish and Lebanese shawarma, for example — at home I play with and combine variations. I encourage you to do the same while exploring flavors and culture too.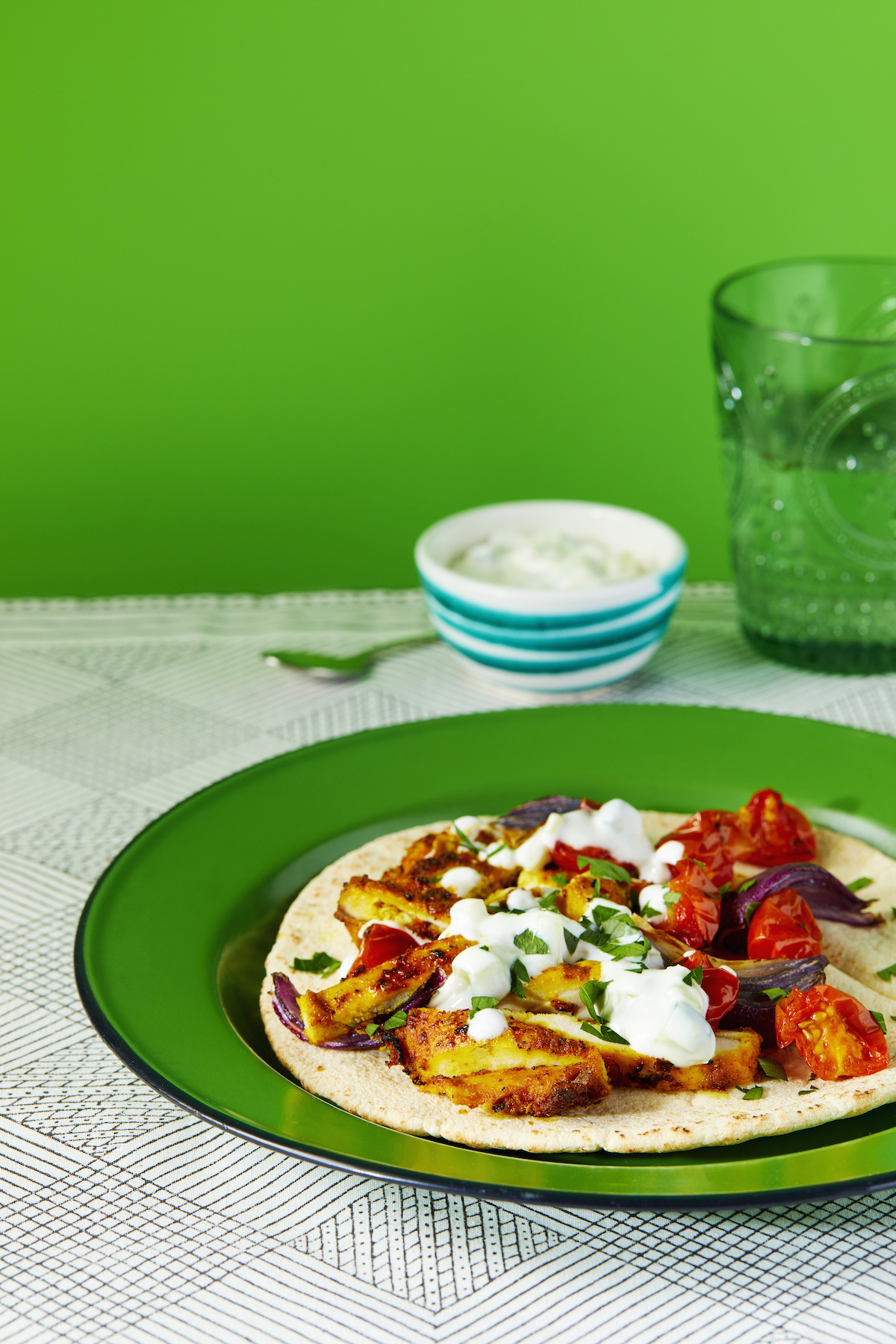 Sometimes I serve this with Tzatziki and other times with a Lebanese garlic sauce called toum. If you're in a super rush you can whisk tahini with water to just shy of your desired consistency. Then add a tablespoon of olive oil and lemon juice to taste.
Need to go even faster? Throw your favorite store bought hummus on the table for spreading.
Sheet Pan Chicken Shawarma
Ingredients
1/4 cup olive oil, plus 1 1/2 tablespoons
1/4 cup lemon juice (from about 2 juicy lemons)
3 large garlic cloves, finely minced or grated
1 tablespoon ground cumin
2 teaspoons minced or grated fresh ginger 

2 teaspoons ground turmeric
2 teaspoons ground coriander
1/2 teaspoon smoked paprika (you can substitute sweet paprika, hot paprika, or a combination)
1/2 teaspoon freshly ground black pepper
1/8 teaspoon ground cinnamon
2 pounds boneless, skinless chicken thighs
2 small or 1 extra- large red onion, peeled, trimmed, and cut into 1-inch-thick wedges
1 pint cherry tomatoes
1 teaspoon salt
Fresh parsley, for garnish (optional)
Warmed pita bread, for serving
1
In a medium bowl, whisk together 1/4 cup of the olive oil, lemon juice, garlic, cumin, ginger, turmeric, coriander, paprika, pepper, and cinnamon. Add chicken and, using your clean hands or tongs, toss to coat well. Cover and leave at room temperature to marinate for 30 to 60 minutes, or place in your refrigerator for up to 2 hours.
2
When ready to cook, preheat the oven to 375°F (190°C). Place the onion wedges in a medium bowl along with the tomatoes, the remaining 1 1/2 tablespoons olive oil, and the salt. Toss to coat well and transfer to a sheet pan.
3
Nestle the chicken between all of the vegetables on the sheet pan, making sure that the vegetables remain in a single layer and that none get stuck under the chicken. Place the sheet pan in the oven and cook for 30 minutes. (This is a good time to make a sauce, if desired; see note above.)
4
Remove the sheet pan from the oven and turn the broiler to high. Carefully transfer the chicken to a cutting board and slice it into 1/4- to 1/2-inch-wide strips. Pour any accumulated juices from the sheet pan into a heat-safe measuring cup; set aside. Transfer sliced chicken back onto the sheet pan.
5
Place the sheet pan under the broiler for about 5 minutes, until everything chars in spots. Remove the sheet pan from the oven and spoon some of the reserved juices over the chicken and veggies to keep them moist. Taste to season one final time with salt and pepper, and garnish with parsley, if desired. Serve immediately with warmed pita and sauce of choice, if using.