10 Healthy Snack Ideas You can Make Easy Without A Recipe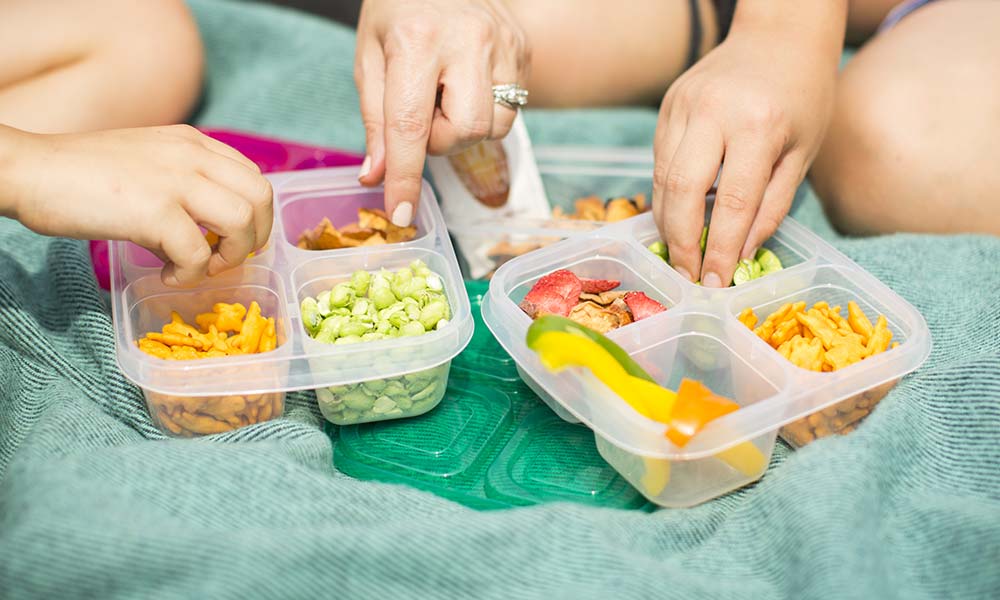 There's a type of snack between store-bought, which can be expensive (especially if feeding active kids, tweens, or teens), and homemade, which can be time-intensive if don't have the opportunity to batch cook or bake, that saves the day.
These lifesavers either require no cooking or can be cooked quickly without a recipe. All you really need is to have the idea in your back pocket and the right ingredients on hand. So this list? It's a keeper, no matter how old your eaters — and even for you. Trust me.
______________
RELATED: The After-School Snack Problem Solved. (Sorta.)

______________
1
A Nut/Seeds, Cheese, and Fruit Plate
Since they can be pricey, I buy nuts and seeds in bulk, especially when on sale. Storing them in the freezer will help keep nuts/seeds from going rancid. I also keep a variety of cheeses on hand at all times.
2
Smashed banana and graham cracker sandwiches
This treat is particularly yummy if you freeze the sandwiches for 20 to 30 minutes before serving. I like mashing the banana with cinnamon, too, for extra flavor.
3
Pitted dates stuffed with cinnamon cream cheese
Dates are super sweet and hard to resist, especially stuffed with cream cheese that's been mixed with a touch of cinnamon (and vanilla, too, if you're fancy!). If the only dates you find are pricey (pitted are more convenient, but can be more expensive too), substitute pitted prunes.
4
Trail Mix
I use the term trail mix loosely to describe any combination of nuts, seeds, and fruit pieces that I find on sale and/or in the bulk bin and mix at home myself. Place your mix in a jar and you've got a grab-and-go snack for a week or two.
— related: Easiest Yogurt Chia Pudding — 
5
Chocolate-Dipped Fruit
Easiest. Chocolate dip. Ever: melt chocolate chips in the microwave and serve with a side of fruit such as sliced banana or apple. Fussy fruit-free kids? The relatively small amount of chocolate helps the fruit go down without a fight and doesn't add all that much sugar in the scheme of things.
6
Peanut Butter Banana Bites
Cut a banana into quarters and slice each quarter in half lengthwise. Spread peanut (or seed) butter between the halves to make banana "sandwiches."
7
Hard-boiled eggs
If your crew likes hard boiled eggs, don't save them just for breakfast or lunch. They also make a great, healthy snack. We like them with nothing more than salt and pepper, but you can also dab a little mayo on top or sprinkle with your favorite dried herb or spice. We like dill and even toasted sesame seeds.
8
Yogurt Parfait
I love when you can make something simple look and sound fancy with nothing more than some thoughtful presentation and a good name. This is a perfect example. Layer plain yogurt — I like to use protein-rich Greek-style — with maple syrup, honey or jam, along with sliced fresh fruit and something crunchy like granola. Suddenly you have a nutritious snack that everyone will love. Make it in a little mason jar or another glass cup for a pretty presentation.
9
Ham and Cheese Roll-Ups
Lean ham and cheese combine for a healthy hit of protein and you don't have to bother with a whole sandwich. Instead, layer a slice of ham on top of a slice of cheese and roll them up. Or, even easier, roll a slice of ham around a cheese stick. It goes down quick and gets the job done, especially with a side of pretzels or tortilla chips.
10
Caprese Skewers
I'm sure there are folks out there who don't like fresh mozzarella, but none of them live in my house. Unless you've got one in your crew — or maybe you have a more common tomato-hater — caprese skewers make a great savory snack that doubles as a party appetizer too. When you make this for yourself or the kids, just throw a couple of cubes or mini balls of fresh mozzarella onto a toothpick with a couple of halved cherry tomatoes.
If you're making these for a party, fold over small leaves of basil and skewer those, too, for a nice presentation. (Alternatively, you can drizzle with pesto.) A sprinkle of crunchy sea salt is great on top, as well.