Creamy Kale Risotto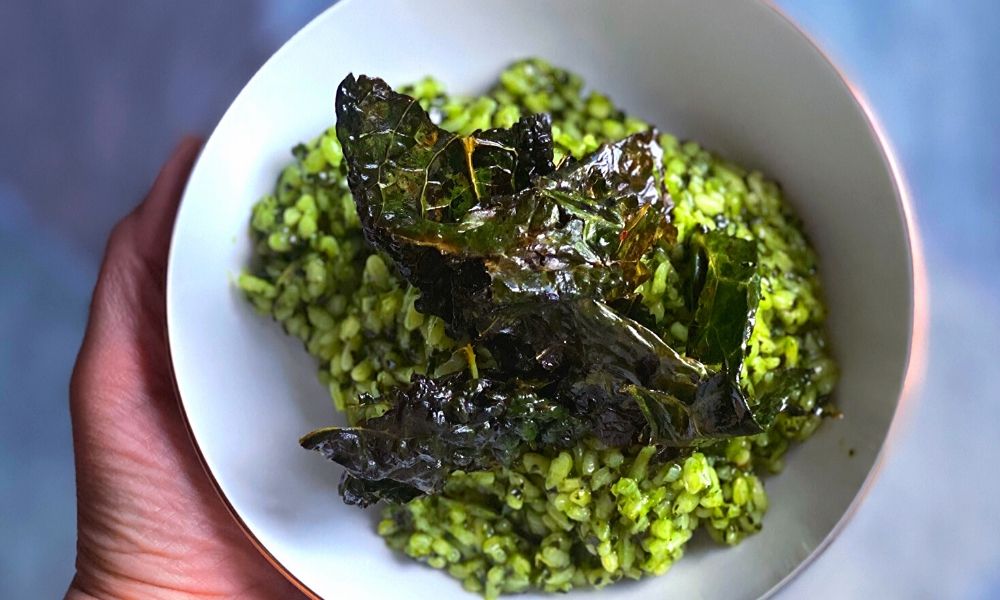 You've been lied to! Risotto is not fussy or hard to make. In fact, it's a simple comfort meal that easily adapts to whatever you have on hand, making it a dish that should be in regular rotation every Monday through Friday.
Or whatever day it is.  (Ed note: this was originally posted during the COVID-19 quarantine.)
Okay, maybe you haven't been exactly lied to, but risotto has a reputation for being labor intensive. And if you're serving it at a high-end restaurant for more than $20, it should be. But we're not. We're home cooks who can easily implement an imperfect version of the technique and still end up with a creamy, delicious bowl of comfort.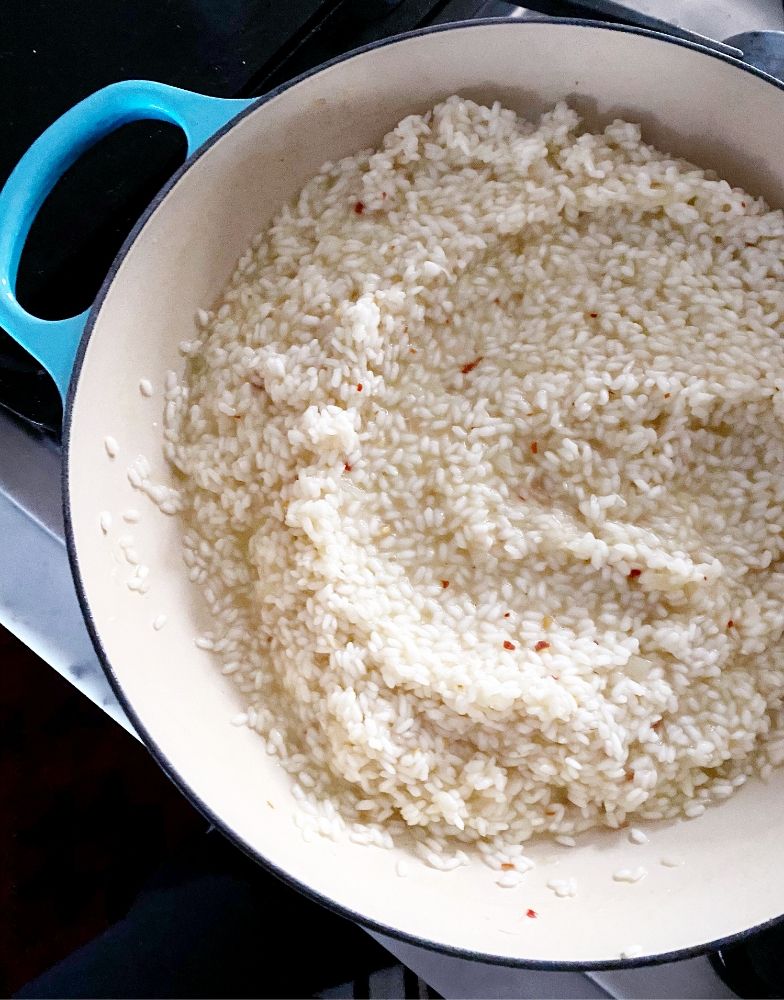 I tend towards making veggie risottos because enveloping nearly any vegetable in a bowl of creamy, buttery rice never fails to entice my kids. But you can follow this recipe to make plain risotto too. The only adjustment is to skip the kale and adjust the final cooking time down by a couple of minutes — and by that point in the cooking process, you can just eye/taste your way through the home stretch.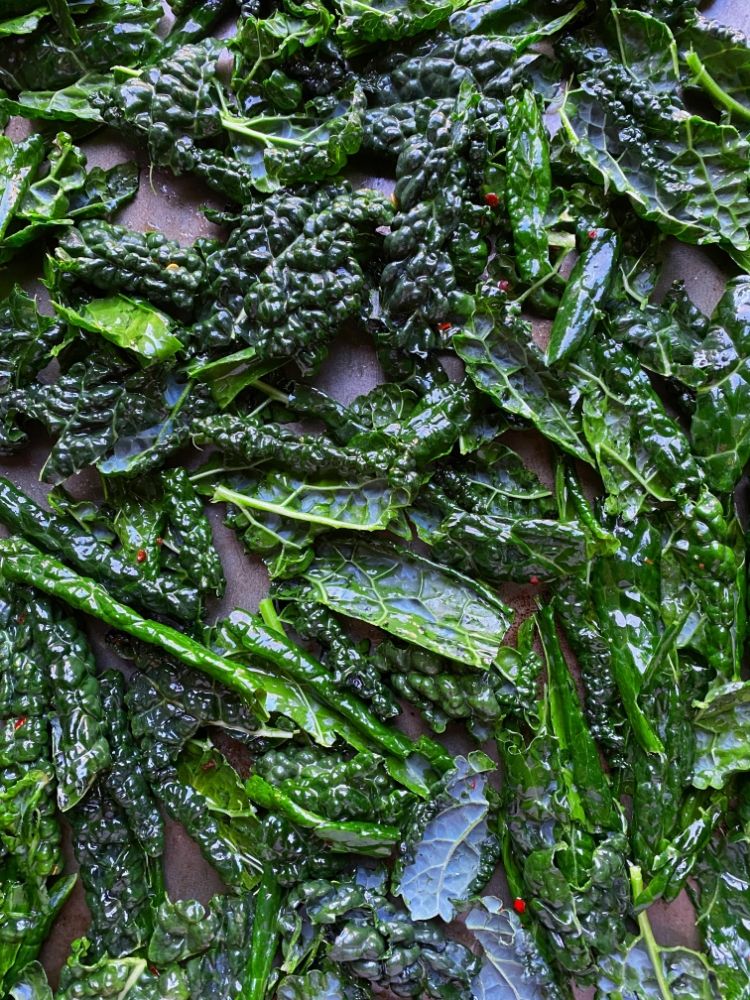 But if you have kale, use it. Or spinach or Swiss chard. Unless you have an eater who refuses green foods, they'll hardly know that this is packed with leafy green goodness.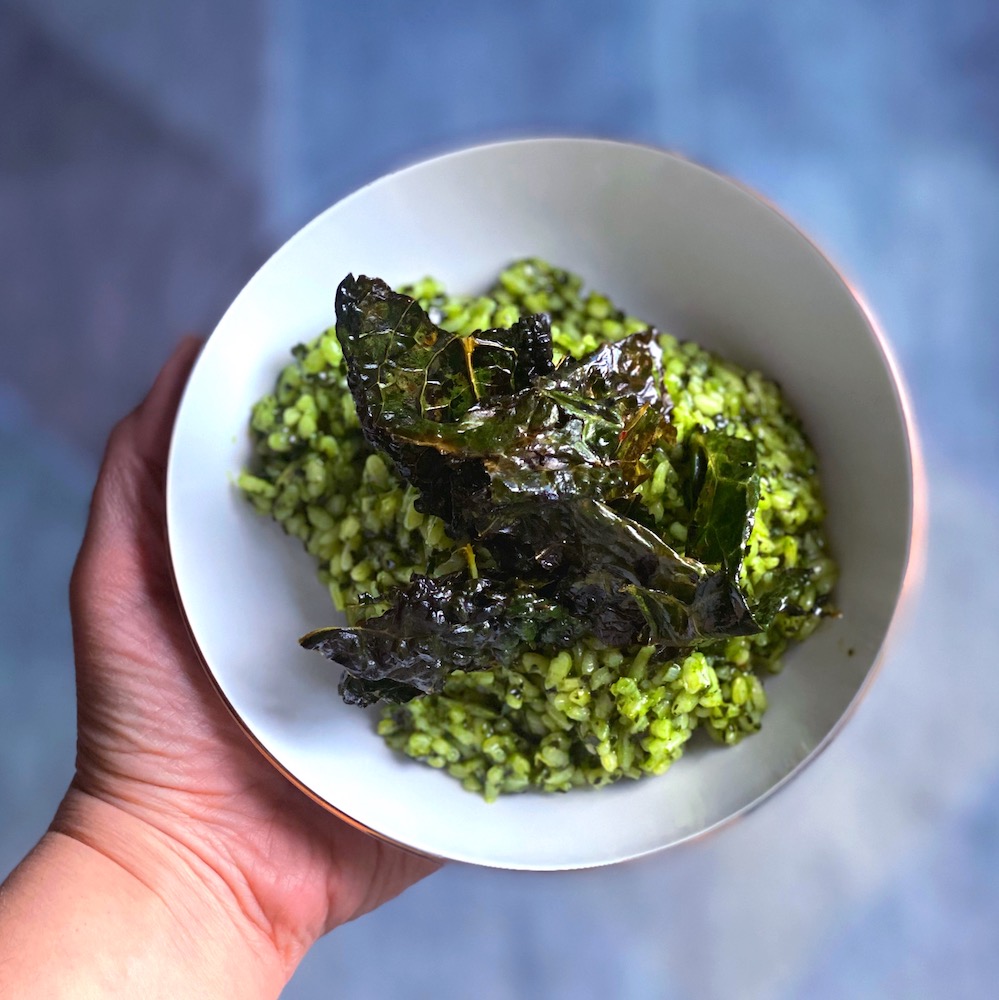 Ingredients
2 bunches kale, washed & trimmed
12 tablespoons olive oil, divided, plus more as needed
1 1/4 teaspoon salt, divided, plus more to taste
2 cloves garlic, roughly chopped
1 teaspoon freshly squeezed lemon juice
4 cups broth
2 small shallots, chopped (about 1/2 packed cup chopped shallot)
2 1/2 cups Aborio rice
1/4 to 1/2 teaspoon red pepper flakes, as desired
2 tablespoons butter
Zest from 1 lemon (about 1 tablespoon)
1 1/2 to 2 cups grated Parmesan cheese, to taste
1
Preheat oven to 350 degrees. Tear the leaves of about half of one bunch of kale into 2-inch pieces. Place in a medium bowl along with a drizzle of olive oil and heavy sprinkle of salt. Toss to coat leaves well and transfer to a baking sheet in a single layer. Bake until crispy, about 15 minutes. Set aside until ready to serve.
2
Fill the high-sided pan in which you plan to make your risotto with water that comes up the side about 2-inches. Heat to a simmer and carefully dunk all the remaining trimmed kale leaves (they can still be in large pieces). Blanch them until softened and bright green, about 1 minute.
Transfer blanched kale leaves to a food processor (you can toss the cooking water and set the pan aside for the moment). Add the garlic, lemon juice, and a 1/4 teaspoon of the salt, and puree as much as you can. Open the lid, scrape down the sides, put the lid back on, and add 4 tablespoons of olive oil in a slow, steady stream with the motor running again. Set puree aside.
3
Add the broth, remaining 1 teaspoon of salt, and 2 cups of water to a saucepan. Set on medium heat and bring to just barely a simmer. You may need to adjust the heat throughout cooking to maintain this very gentle simmer.
4
Set your risotto pan over medium-low heat. Heat 6 tablespoons of the olive oil and add the shallots as soon as it begins to sizzle. Gently saute until softened and fragrant, about 5 minutes. Turn heat to medium and add the rice and red pepper flakes. Toss to coat the grains well and cook, continuing to stir periodically to keep the rice from sticking to the bottom of the pan, about 4 minutes.
5
Using a heat-proof measuring cup, scoop out 3/4 cup of broth and add to the rice. Cook for 2 to 3 minutes, stirring periodically. If you need a moment to breath and do something simple, stir all the while. If you're busy, stirring the mixture just 2 or 3 times will suffice just fine.
Once all of the broth has cooked off, add another 3/4 cup (this is your second addition) and repeat.
6
When you add your 6th — and final — addition of broth, also add the kale puree. Cook down until the risotto is creamy (but still a little runny; the cheese will thicken it further) and rice is toothsome, but tender, about 5 minutes.
7
Remove the risotto from heat. Stir in butter, remaining 2 tablespoons olive oil, and lemon zest. Once all the butter has melted and is well incorporated, stir in the Parmesan to taste.  Adjust salt as desired. Serve topped with kale chips.