Pasta with Spinach Pesto and Green Beans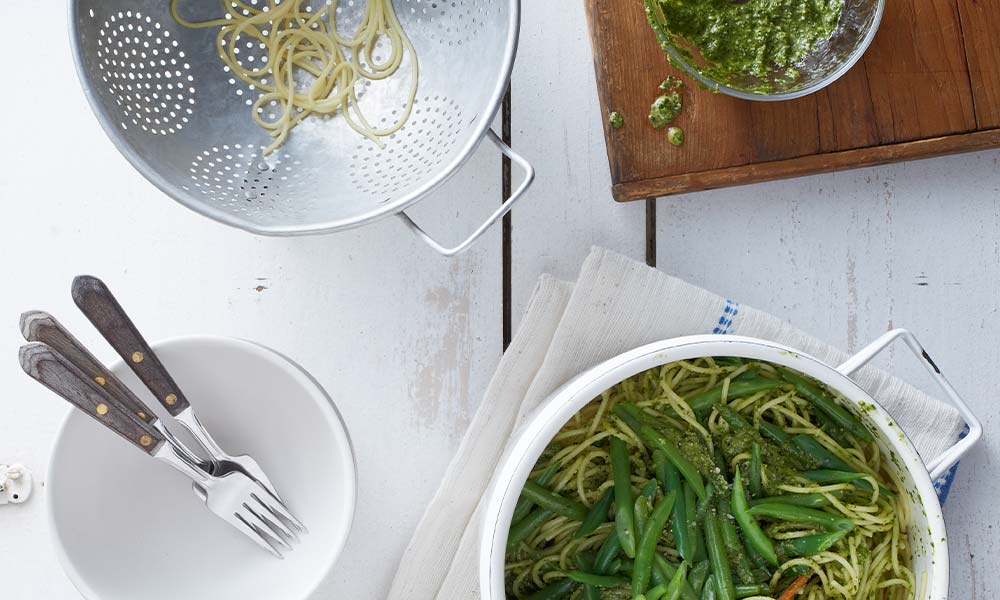 Although I'm sure there are folks somewhere in the world who don't like it much, traditional basil pesto — pesto alla genovese — is a nearly universally adored sauce. Given how easy it is to make (and freeze), this is a boon for us busy home cooks.
Basically, if you learn how to make one single pasta sauce from scratch, it should be pesto.
Making it isn't hard to do. You put ingredients into a food processor, whiz, and in seconds, have a magically versatile sauce. You can toss it with pasta, brush it onto chicken or veggies, slather it on toast, shake it into dressing, swirl it into mayo, and so much more.
———- RELATED ———-
What To Freeze For Easy Family Dinners
————————————
Spinach isn't a traditional pesto ingredient, but I use it here for an added nutritional boost. Don't worry: thanks to its mild flavor, you can't taste the extra greens.
If you freeze your pesto, consider doing so in an ice cube tray so that you can pop out small portions to use in all kinds of glorious ways.
And most importantly, while this Spinach Pesto will become your no-brainer go-to on busy weeknights, be sure to get creative sometimes. If you're fascinated by turmeric, throw it into a pesto with cilantro and pepitas. If you've got walnuts, use them with arugula instead of pine nuts and basil. Or if you've been dying to find a family-friendly way to use the rest of that saffron you bought for one dish a million years ago, throw a bit into a pesto with mint and almonds, which will taste delicious over simple grilled swordfish kabobs.
Pasta with Spinach Pesto and Green Beans
Makes 1¼ cup pesto, about double what you need for the final pasta, which serves 4 to 6
Ingredients
¼ cup pine nuts
3 cups washed fresh basil leaves
2 cups fresh baby spinach, washed and dried
1 teaspoon lemon zest (from about 1 lemon)
1 tablespoon freshly squeezed lemon juice (from about ½ juicy lemon)
1 teaspoon roughly chopped garlic (from about 1 clove)
½ teaspoon salt, plus more to taste
½ cup olive oil, plus more as needed
¼ cup grated Parmesan cheese
Freshly ground black pepper (optional)
For the Pasta:
1 pound pasta
8 ounces green beans, washed, trimmed, and cut into 2-inch pieces
1 tablespoon unsalted butter
½ cup spinach pesto, plus more to taste (about one-half of the recipe included here; see note above)
Olive oil, to finish
Salt, to taste
Freshly ground black pepper, to taste
Grated Parmesan cheese, for garnish
1
Make the Spinach Pesto: Place the pine nuts in a small, dry pan set over medium-high heat and toast until golden brown, about 3 minutes, tossing them all the while to keep from burning. Place the toasted pine nuts, basil, spinach, lemon zest, lemon juice, garlic, and salt in the bowl of a food processor and puree, as far as you can, stopping the machine and scraping down the sides at least once. Then, with the food processor running, add the oil in a slow, steady stream until the mixture takes on the right texture. Add the cheese and black pepper to taste, if using, and pulse three or so times, until the mixture is just combined. Season with more salt to taste, if desired. If you've made the full amount, store about half in a sealed container in the refrigerator for up to 7 days or in the freezer for up to 3 months.
2
Cook the pasta according to the package directions, being sure to save ½ cup of pasta cooking water before draining.
3
While the pasta cooks, steam the green beans.
4
Place the butter in the empty pot in which you cooked the pasta and set over medium-high heat. As soon as the butter melts and the foam begins to subside, add the pasta cooking water. If you forgot to save the pasta cooking water, use a ½ cup of regular water.
5
Return the pasta to the pot along with the reserved steamed green beans and at least ½ cup of pesto, or more as desired, and toss to coat. Remove from the heat and finish with a healthy glug of olive oil. Season with salt and pepper to taste. Serve immediately topped with grated Parmesan.